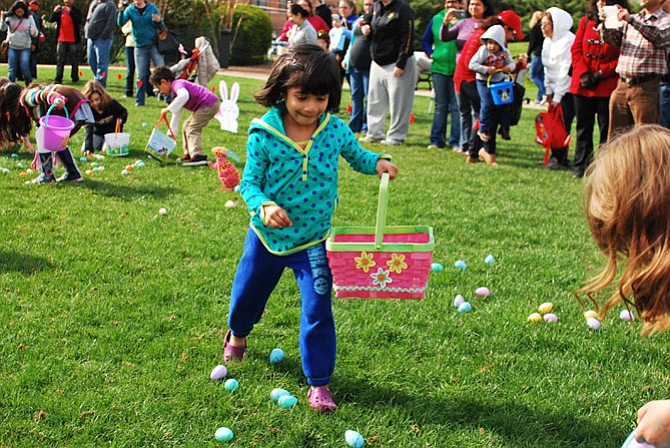 Saturday/March 19
St. Patrick's Day/St. Joseph's Day Party. 6-9:30 p.m. St. Veronica's Church, 3460 Centreville Road, Chantilly. This is a family event that includes food, drink, sing-alongs, Irish dancers and plenty of smiling Irish eyes. Adults $7, Children $5, drinks extra.
http://www.stveronica.net/ or 703-773-2000.
Aqua Egg Hunt. 1:30-4:20 p.m. Herndon Community Center, 814 Ferndale Ave., Herndon. Children will collect as many floating and sinking eggs as possible in the time allowed. $10 for one child and one parent. Check for age group times. herndon-va.gov. 703-435-6800 ext. 2128.
Sunday/March 20
32nd Annual Children's Spring Festival. 1:30-4:30 p.m. Great Falls Village Centre, 776 Walk Road, Great Falls. Games, rides, food, fun. Sponsored by Adeler Jewelers, 703-759-4076; and Great Falls Optimist Club.
Saturday/Mar. 26
Traditional Easter Egg Hunt. 9-11:30 a.m. Check for times for age groups. 777 Lynn St., Herndon. Easter Egg Hunt, featuring: craft projects, story time, petting zoo, coloring mural, potting station, and photos with the Easter Bunny. Bring a basket or bag to collect your eggs in the hunt. $9/$10. Register at 703-435-6800, ext. 2106. herndon-va.gov.
Sunday/March 27
Easter Egg Hunt. 10:15 a.m. Forest Edge Elementary School, 1501 Becontree Lane, Reston. Join Restoration Church for an Easter service followed by a free egg hunt! Our Egg Hunt will begin around 11:15 a.m. immediately following the 10:15 a.m. Easter service. Come enjoy an egg hunt, moon bounce, snacks and more. restorationreston.org/egg-hunt. 703-405-7238.
Easter Egg Hunt at Colvin Run Mill. Starting at 10 a.m. Colvin Run Mill, 10017 Colvin Run Road, Great Falls. Hunt for eggs filled with treats and treasures of the grounds of Colvin Run Mill Historic Site. Separate hunts by age group. Before the hunt, make egg-cellent crafts to take home. Bring your own basket; program will be held rain or shine. Ages 2-9. $6/$8. Register at http://www.fairfaxcounty.gov/parks/colvinrunmill/events.htm.
Old-Fashioned Egg Hunt and Roll. 10:30-11:30 a.m. Freeman House, 131 Church St., NE, Vienna. Children 12 and under and their parents are welcome to participate in an egg roll and visit with Easter Bunny, hosted by Historic Vienna, Inc. 703-938-5187.