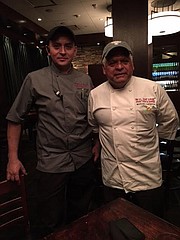 Sometimes in life, two heads are better than one. And in the case of the super-busy kitchen at Tyson's Galleria Wildfire Restaurant corporate chef Moreno Espinoza and executive chef Edwin Amaya do work well together, and when Espinoza comes to town from the Chicago headquarters, the two collaborate on some interesting fare. Example: Bourbon-Marinated Lamb Chops with asiago and Yukon gold potato gratin, caramelized Brussels sprouts, and a honey-bourbon glaze. Indeed, as Amaya said, without the professional guidance of his boss, he would not be where he is today, overseeing the Tysons' kitchen.
A native of Honduras, Amaya grew up in a family and a culture in which only girls spent time in the kitchen, he said. The men were expected to work in the fields or undertake some other form of manual labor. "My dad never wanted me in the kitchen," he said. But like his mother, Amaya found cooking to be a real passion. "She was my role model," he added, though he finds cooking as well as she did a real challenge. "She is surprised that I am working in a kitchen and that I am successful."
Espinoza, a native of Michoacan, Mexico has risen to the top of his field even though he has never had formal training. He attributes his success to the many long hours over many years working every station in a professional kitchen. He, too, attributes his cooking passion and skills to his mother. "She was my best teacher," he said. "I have always challenged myself to be as good as she. She never had anything written down, but I bought all the ingredients stated in her recipes and eventually figured them out."
When Amaya moved to the United States at the age of 18, he lived with his brothers in California, who were both working in local restaurants, and he ended up working with them. When they moved to Virginia for more opportunities in 2000, he worked at Maggiano's, Legal Seafood, Daily Grill, Capital Grill, and Bonaroti "There are so many good opportunities here," he said, adding that Wildfire restaurant hired him to be a prep cook to learn the menu. From a prep cook, he was promoted to kitchen manager. "When I was interviewed and hired," said Amaya, "it opened up my world."
Fortunately for Amaya, Espinoza recognized in the first instance that this young man had great potential. "We like to develop that and give a chef a chance to improve," he said. "It also depends on how fast the chef can learn. It has to come from within, and I recognized early that potential within him. I wanted to work with him so he could understand the systems." He added that when he looks at Amaya, he sees himself who is always hungry for new challenges.
As a long-time employee with the Wildfire brand, Espinoza does know a thing or two about kitchen work. When he started with the group, he had to learn all the stations in the kitchen— food prep, pantry, oven, grill/broiler, and rotisserie—and when he had achieved that, he was offered kitchen manager in 1989. "One year later, I became the executive chef," he said.
Most recently, the two chefs have worked on developing gluten-free dishes that are packed with flavor and texture. They are also challenged with creating outstanding wine dinners. "Wine dinners give us a chance to play around and be creative," said Amaya.
Wildfire is located at Tysons Galleria, third floor, 703-442-9110.
Chicken Moreno
Chef Moreno Espinoza's very popular chicken dish! The marinade recipe makes 3 cups.
Serves 4
Four 6-ounce marinated chicken breast halves
2 tablespoons olive oil
4 tablespoons thinly sliced garlic
Two 8-ounce strips oven dried tomato
½ pound marinated artichoke quarters
2 tablespoons Moreno's herb marinade
10 whole basil leaves for garnish
1 cup arugula leaves
2 teaspoons lemon vinaigrette
1 sprinkle Parmesan shavings
Chicken Moreno Herb Marinade
1 pound Spanish onions, diced
½ cup extra virgin olive oil
½ cup chopped parsley
½ cup fresh basil, chopped
¼ cup lemon juice
1 1/3 tablespoons Dijon mustard
1 1/3 tablespoons mixture salt and pepper
2 teaspoons dry mustard
1 garlic clove, minced
Place all ingredients in a large container and blend until smooth. Refrigerate.
To cook the chicken breasts, spray a hot grill, and grill both sides until cross marks appear, about 2 minutes per side.
Heat a 10-inch skillet over medium heat. Add the oil, and sauté the garlic. Add the oven-dried tomato strips and the artichoke quarters, and sauté for about 45 seconds. Add the marinade, and toss the ingredients. Add the basil leaves, and sauté for about 10 seconds. Remove from the heat.
To serve, arrange the chicken breasts on each plate, top with equal portions of the artichoke mixture. Deglaze hot sauté pan with chicken juice and drizzle over chicken. Garnish with arugula leaves, lemon vinaigrette, and Parmesan cheese.