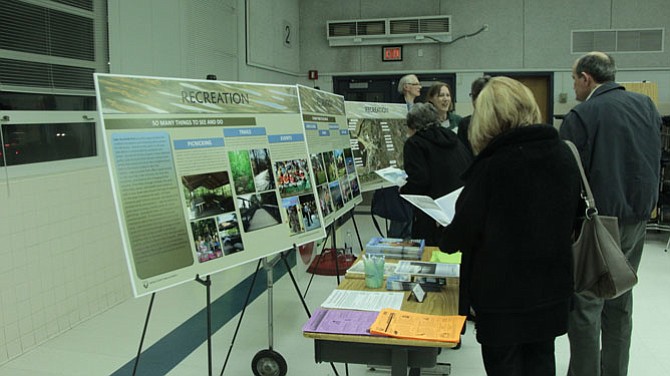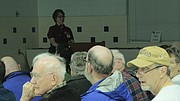 Fairfax County Park Authority began the master plan revision process for local park, Lake Accotink. Community members attended a public information meeting March 14 at Cardinal Forest Elementary School.
Project manager and senior landscape architect Gayle Hooper said she is involved with several park master plan revisions every year, but she has a personal connection with Lake Accotink.
"I grew up in Springfield, not that far from Lake Accotink. I spent many a day there as a kid, as a teen, as a young adult, as a parent, as an adult," Hooper said.
Lake Accotink hosts numerous events, such as concerts and birthday parties. Park facilities also include an antique carousel, mini golf, boat rentals and reservable picnic areas.
"The park has seen a lot of wear, it's kind of being loved to death. I want to keep that connection with the community but I'd really like to make it so it's a healthier balance in the process," Hooper said.
The master plan revision is expected to take around 18 months. According to Kirk Kincannon, executive director of Fairfax County Park Authority, master plans are revised every 20 to 30 years based on changes within the community.
Currently, no decisions have been made about what revisions should be implemented in the master plan, but each public information meeting will contain an allotted time for public comment.
Both individual speakers and those representing an organization were invited to comment. Commenters' concerns ranged from environmental issues to park accessibility.
"We heard a lot of comments tonight about connectivity and trails, nature, conservation, public access. This is one of probably a dozen or so meetings we'll have with the community as we develop the master plan process, so it's really too early to say what it's going to be, but it's really up to the community," Kincannon said.
Because Lake Accotink is part of more than one district, including Braddock, Supervisor John Cook (R-Braddock) attended the meeting.
"Doing something, that doesn't necessarily mean building something, paving something. It also means things like the sustainability, the lake, the ecosystem, the trail network and we already heard tonight some different thoughts on what should trails be and what should they look like, we have to find a balance on those things," Cook said.
At this stage in the revision process, project managers and planners are eager to hear public opinion regarding the park.
"It really is an open process. So people should get involved and come out, put their ideas down. And if neighborhoods want to have a meeting of their own, we're happy to help set that up and just get people talking about the things that we can do," Cook said.
The next public information meeting is scheduled for May 16, however a draft of the revisions will not yet have been created. Because sediment build up continues to be an issue in the lake, officials plan to conduct studies to find out the extent of the problem before making plans.
Hooper said, "we still need to have this discussion about how to make the lake a more sustainable system, which will be a big factor in how we look at the park."