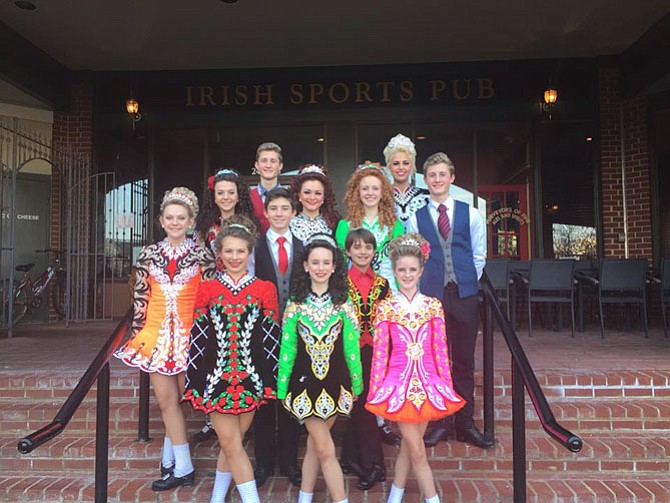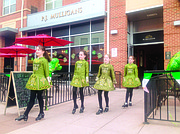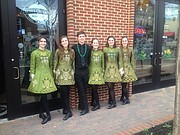 Thursday, March 17, St. Patrick's Day was celebrated throughout Herndon and Reston. At Jimmy's Old Town Tavern in downtown Herndon, chef Eric Quarnstrom prepared 80 lbs. of corned beef and 24 heads of cabbage for the St. Patrick's Day menu. Eateries including Ned Devine's on Centreville Road and P.J. Mulligans put out decorations and offered Irish fare such as corned beef and cabbage, shepherd's pie, and potato soup. Musicians, including dancers from the Boyle School of Irish Dance, also made visits to many cafes.
On St. Patrick's Day, students enrolled at the Boyle School performed at numerous area restaurants including Ned Devine's and O'Sullivans in Herndon. The Boyle School of Irish Dance has an estimated 500 dancers enrolled in the program, which operates in Chantilly, Alexandria, Herndon, Reston and Manassas. The dance program is operated by two sisters, Alannah Sweeney and Ellen Gibbons. The two sisters were the only girls in a family of eight siblings, children of Irish immigrants. Sweeney says the program emphasizes and develops positive traits for students. "It is not all about looking pretty. It is about being a strong dancer who has stamina," said Sweeney.
THE SISTERS learned Irish dance as children. While a student at Seton School in Manassas, Alannah Sweeney offered tutoring lessons in Irish dance. Then in the 1990s the successful Riverdance show debuted featuring Irish music and dance. "When Riverdance came out, you had so many people suddenly enjoy Irish dancing. I still have some people who come up to me and say, 'Oh, you are a Riverdancer!'" says Sweeney.
After Sweeney graduated from college, the sisters obtained teacher certification and became dance judges. To become a certified Irish dance teacher there is an exam that requires understanding of music and timing, written dance theory, and practical "caeli," or dance with self-choreographed arrangements. The sisters opened schools in Alexandria and Chantilly in 2002. When the business could hire new teachers, they hired former students and award-winning dancers, siblings Elizabeth and Katie Francis, graduates of Christendom College in Front Royal.
The Boyle School has won "Best Irish Dancing School," "Best Performing Group" and "Best Dance School" in the Washington D.C. and Alexandria St. Patrick's Day parades. In 2007, Boyle School dancers did a performance preview at Wolf Trap on the opening night of Riverdance. In 2010, the Boyle School was asked to perform as headliners at the Key Largo Irish Fest.
Eleven-year-old Chip Krese who practices at Boyle School of Irish Dance Alexandria campus attended the March world championships in Glasgow, Scotland. Krese is one of 12 dancers from the Boyle School of Irish Dance participating in this year's championship competition, and one of 45 boys enrolled in the Boyle School of Irish Dance program. Samantha Haas, 21, who practices at the Boyle School Alexandria studio will also be dancing at the Scotland championship games. Haas, who attends George Mason University, has been dancing for 13 years, and has been to the world's championship games before. Other Boyle students participating in the Scotland competition include James O'Reilly, Joe O'Reilly, Finn O'Reilly, Brennen Peters, Jenna Spedden, Rose Francis, McCall Moran, Emily Miller, Lizze McCardell and Madeleine Cabral.
"They are very active in the community and are a family friendly school," said parent and Chantilly resident Kim Kenna. All seven of her children have taken lesson with the Boyle School of Irish Dance. "It is a great opportunity to expose the Irish culture, my daughter has a great time," said Fairfax resident Courtney Marsh, whose daughter takes classes with the Boyle School.

THE BOYLE SCHOOL offers summer camps in June and July. The camps are a way for children to experience Irish dance for the first time. Summer camp is for brand new beginners, as well as returning champions. All camps fill up quickly.