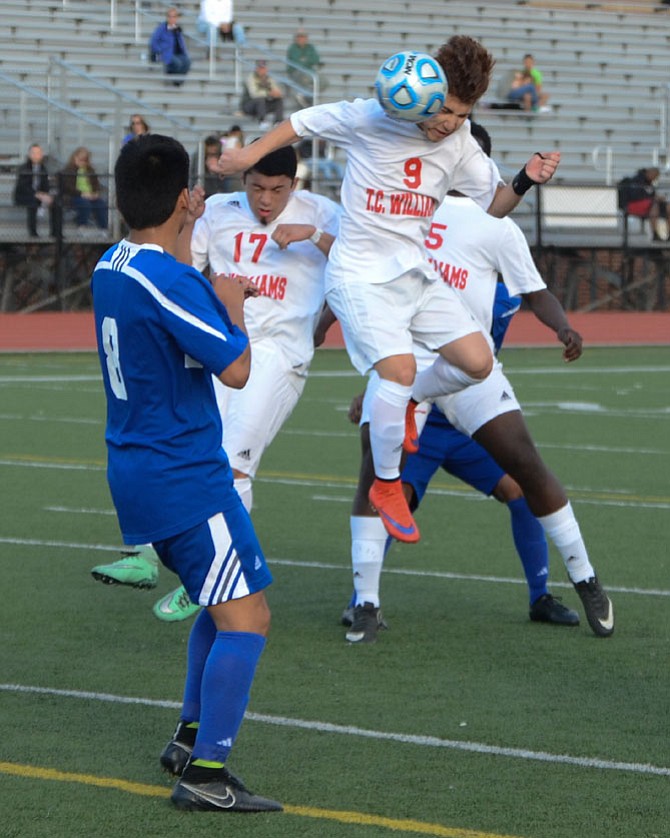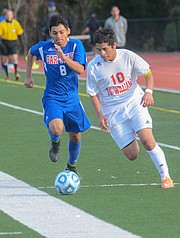 After taking a 1-0 lead into halftime, T.C. Williams boys' soccer coaches cautioned the Titans that their opponent, Gar-Field, would put forth a passionate effort in the second half.
Sure enough, the Indians struck 12 minutes into the second half, netting the equalizer. The Titans, however, didn't take long to respond.
TC senior midfielder/forward Maverick Argueta scored in the 63rd minute and the Titans held off Gar-Field for a 2-1 victory on March 17 in Alexandria.
Senior midfielder/forward Kevin Nunez assisted Argueta's game-winner and scored the Titans first goal in the 38th minute.
"We knew in the beginning this was a tough opponent," Nunez said. "We knew they were going to come very strong from the first minute to the end. Once we saw that they scored, we just kept going at it. We didn't put our heads down. We told teach other to keep on going. We're a hard-working team, so we don't stop."
T.C. Williams, no stranger to strong starts in recent seasons, improved to 2-0 with the victory. While the Titans took care of business as usual, there was one subtle difference for TC.
Martin Nickley, who took over as head coach of the T.C. Williams boys' soccer program in 1990 and led the Titans for a quarter of a century, is back on the TC sideline, but as an assistant. Peter Abed, who spent four seasons as JV head coach and four more as a varsity assistant, is now the varsity head coach.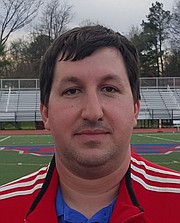 Nickley and Abed said not much will change for the coaching staff, other than titles and paperwork. The duo has experienced success together, including the 2014 season during which the Titans won the Conference 7 championship, captured their first region title since 1974 and took home the program's first state championship.
Abed, 34, is in his ninth year as a coach with the Titans. He graduated from T.C. Williams High School in 1999 and played four years of soccer under Nickley.
"I feel like this is one of the bigger programs in the area," Abed said. "We've always been successful and I think it's a great opportunity moving forward. The area is only getting better for soccer; the quality of the kids coming through is just getting better and better."
Abed and the Titans are off to a strong start in 2016 and Nunez and Argueta will likely play major roles in whether the success continues. The seniors will be relied upon as primary goal-scorers, and Nunez, a captain, will at times drop back and become a distributor.
"Maverick is one of the most skilled guys in the region, I'd have to imagine," Abed said. "Technically, his ability is unbelievable. Kevin, he's been here since that state team. He was a starter on that state team as a sophomore, so that speaks to his ability right there. He's got an amazing shot from outside the box. When he was a sophomore, he won a district championship [when he] hit two bombs from outside the box."
Senior midfielder/forward/captain Reuben Bosompem and junior defender Colin Zack will also be key players for the Titans.
TC played each of its three goalkeepers against Gar-Field. While Abed said it's nice to have depth with senior Isaac Alvarez, senior Jonathan Nunez Hernandez and senior Jose Castro Gallegos, the preference would be for one to step up as the starter.
T.C. Williams will travel to face Lake Braddock at 7 p.m. on Thursday, March 31.