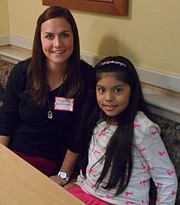 From Allisson
Each week Ms. Alex and I go to the library and read together. We started when I was in third grade, so we have been reading together for a year and a half. We read The Bailey School Kids series, and we read books about animals (non-fiction). We also like to read bilingual books and I help Ms. Alex with her Spanish. Something that I have learned from Ms. Alex is how to summarize what I have read and also how to skim to help me find an answer.
Some special things I have enjoyed doing with Ms. Alex were going to IHOP and doing a scavenger hunt throughout Old Town Alexandria. I also liked when we used modeling clay to show what was happening in a story. Ms. Alex is a wonderful mentor, because she helps me to be a better reader and understand what I'm reading. Tutoring has helped me with vocabulary, and I have gotten a lot better at spelling tests.
From Alex
Working with Allisson and the Wright to Read program over the past year and a half has been extremely fulfilling and fun for both Allisson and myself. Our Wednesday sessions at the library are a consistent bright spot in my week, and they almost always seem to go by a little too quickly. I've come to view our time in the car going to and from the library and various Wright to Read activities as just as important as our time spent reading together, for that's when the mentorship aspect of our relationship can really develop. I enjoy hearing about what she is learning at school, what she likes to do for fun, and answering the multitude of questions she has for me.
Since we began working with the program, the most noticeable change I've seen in Allisson is her confidence. She doesn't hesitate to take on challenging words or make predictions about what is going to happen in a particular chapter. She often pauses to tell me additional information or how she is making connections between what is happening in the book to something she has experienced or learned in her own life. She has also made great strides in her reading comprehension and vocabulary. I love to see her excitement about her progress and continuing success. I'm very proud of Allisson, and know her family is as well—and can't wait to see what kind of things she will accomplish in life.
Wright to Read provides volunteer-based one-on-one sustained literacy tutoring & mentoring relationships to City of Alexandria elementary school children in need, and collaborates with families, schools and community partners to create a comprehensive support network that guides each child to success. Wright to Read is a member of the Alexandria Mentoring Partnership (AMP). AMP was created in 2006 to ensure that quality mentors and mentor programs are available for Alexandria's youth and young adults in need. To learn more about Wright to Read, visit www.wrighttoread.org or to learn more about AMP, visit: www.alexandriava.gov/Mentoring.