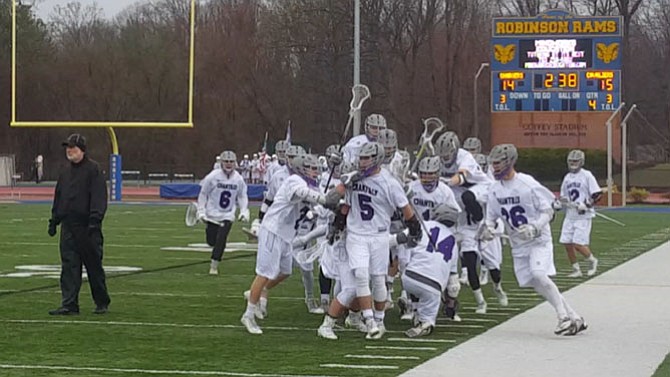 Chantilly boys' lacrosse coach Kevin Broderick gave a less-than-glowing review of his team's performance against Woodson on March 19, saying the Chargers played "poorly" and let the Cavaliers take control of the game.
But thanks to a pair of standout seniors, defeat wasn't a contributing factor to Broderick's displeasure.
Colin Zimmerman scored the tying goal with 8 seconds remaining in regulation, Colin Meehan scored the game-winner in overtime and Chantilly escaped with a 15-14 victory over Woodson on Saturday at Robinson Secondary School.
Chantilly trailed by three in the third quarter but battled back to take a 13-12 lead on a goal by Zimmerman with 9:10 remaining in the fourth. Woodson regained the lead, 14-13, when Nick Roberts scored with 2:34 remaining, and the Cavaliers needed just one more stop to earn the victory.
Zimmerman, a 2015 VHSL first-team all-state selection, had other ideas, and the senior attackman scored from 12 yards out while moving to his right, tying the score at 14 with 8 seconds remaining. Meehan then scored the game-winner 82 seconds into the overtime period. The senior midfielder started behind the goal, moved to his right and found the back of the net.
"I saw that their defense was shading me toward their left because I'm a strong right-handed dodger," Meehan said. "So I faked left, went right and I was looking up and they didn't have a slide so I just took the shot."
Meehan led Chantilly with five goals. Zimmerman totaled three goals and four assists. Senior attackman Ethan Malo had three goals and one assist. Senior attackman David Zaman, senior midfielder Brad Sechler, senior midfielder Thomas Kelly and sophomore attackman Liam Kelly each scored one goal.
Chantilly, a perennial power that has played in six state championship games in the last eight years, managed to avoid an 0-2 start. The Chargers opened the season with a 10­9 home loss to Yorktown on March 15.
"Hopefully we learn and have some pride about ourselves," Broderick said. "It's a different team and it's a real challenge for our staff to get our guys up to speed where they need to be [to succeed] at this level."
The returning Chargers are motivated by how last season ended. Chantilly, after beating Robinson in the Conference 5 and 6A North region championship games, lost to the Rams in double overtime in the state final. It was the fourth time in the last eight years the Chargers finished state runner-up.
"It's motivated me so much and I know all the other seniors and guys who were on the team last year [feel the same way]," Zimmerman said. "Losing that game and seeing the seniors leave Chantilly on a loss, it leaves a sour taste in all our mouths. All of us are so ready to work and make sure we get back there and win it this time."
Two days after the victory over Woodson, Chantilly defeated Langley, another state power, 10-4. The Chargers then lost to Hamburg (New York) 11-7 on Wednesday, dropping their record to 2-2.
Chantilly will host Westfield at 7:15 p.m. on Tuesday, March 29.