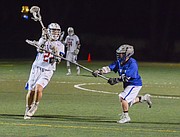 The T.C. Williams boys' lacrosse team won its home opener on Tuesday night, beating West Potomac 15-11 at Minnie Howard.
The Titans opened the season with a 16-11 loss to Lake Braddock on March 17, but evened their record at 1-1 by defeating the rival Wolverines.
"I thought we made a number of mental mistakes at various points in the game, but our guys were resilient, and improved from our first game," TC head coach Michael Mulherin wrote in an email. "We don't have a big roster, so we have to control the ball, and we were able to do that when it counted tonight."
T.C. Williams goal-scorers included sophomore attackman Brody Dickson, senior attackman Dillon Smith, senior attackman Phil Reilly, senior midfielder Scott Passalugo and junior midfielder Sammy Zang.
"It's huge for us to start off with a strong performance after spring break and to show improvement from Lake Braddock," Mulherin wrote. "Annandale will be another tough game on Friday, so we wanted to get some momentum going in to that match."
T.C. Williams finished 5-10 last season and last qualified for the region tournament in 2011.
"We've always tried to stay away from focusing on a W­L record for goals, and in that same light we also try not to focus on a postseason record," Mulherin wrote. "We want to play to our potential, which we feel is in the top half of the Patriot Conference, we want to improve every day/game, and we want to be competitive in all of our games, playing our best lacrosse by the end of the season."
The Titans will travel to face Annandale at 7:15 p.m. on Friday, April 1, and will return home for a game against Stuart at 7:15 p.m. on Tuesday, April 5.
— Jon Roetman