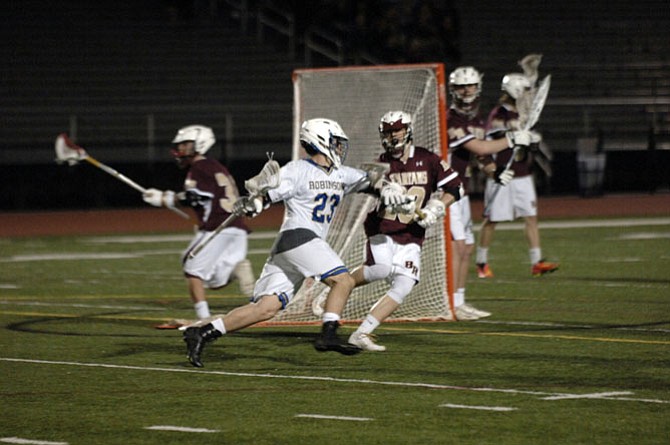 The Robinson boys' lacrosse team suffered losses against two public school opponents during its state-championship season of 2015.
Robinson got another crack at one of those opponents on March 19 and the Rams were out for payback.
Facing a Yorktown team that opened the season with victories over perennial powers Chantilly and Langley, the Rams avenged last season's loss to the Patriots with a 7-3 victory at Robinson Secondary School.
Robinson shut out Yorktown in the first half and never trailed.
After opening the 2015 season with five straight wins, Robinson lost to Yorktown, 7-5.
"We lost to these guys last year," Robinson head coach Matt Curran said. "Not that that was the only motivation ­­­ obviously we want to win every game ­­­ but, yeah, we wanted this one."
Curran praised the Rams' defensive effort, specifically the performances of senior goalkeeper Matthew Bethard and junior defenseman Joe Otero, who matched up against Yorktown standout C.J. Stowell.
"I think, offensively, we could have played better," Curran said, "but I'm not sure if, defensively, we could have ... been better prepared or played better ­­­ executed that game plan better than we did."
While the Robinson defense shined, senior Johnny Daniel took care of the offense. The VMI-bound attackman scored five goals and was the only player to score in the first half as the Rams built a 3-0 halftime advantage.
"I thought he was unbelievable because, for the most part, he was playing against one of the best long poles in the area in Conor Shears," Curran said. "... I think that makes the performance that much better."
Senior midfielder Austin Henry and junior attackman Liam Curran each scored one goal for Robinson.
Yorktown scored a pair of goals in the first two minutes of the second half, cutting Robinson's lead to 3-2. Yorktown's Pearson Savarino scored his second goal of the game with 3:22 remaining in the third quarter, pulling the Patriots within one at 4-3, but the Rams outscored the Patriots 3-0 in the fourth quarter.
"Coming into this game, a lot of the emphasis was on coming back and beating them this year ­­­ getting a little revenge on them," Bethard said. "Everyone just wanted it a little more. All the seniors really wanted ... to beat them this year. They wanted to shut them up from last year."