To the Editor:
I remember him walking through the front door with his dark blue uniform, adorned with medals and his perfectly formed hat, an imposing figure to a 6 year old. My father was part of the greatest generation of WWII vets that served their country with honor and with unyielding patriotism inherent in them from a very early age. I have that patriotism, too, because of him.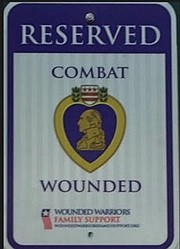 As a B-17 Bomber pilot during WWII who went on to Korea and rounded out his Air Force career working for the Joint Chiefs of Staff at the Pentagon, my dad was a role model of what a patriot looked like. He raised us to believe in the United States of America, to cherish its virtues and to honor our military. Most definitely, to honor our military. And so we did, all of us.
I recently came across an article about Combat Wounded parking signs, created and provided by the Wounded Warrior Family Support, an organization headquartered in Omaha, Neb. With an estimated 1.8 million Purple Heart recipients, these combat wounded service members are making the challenging transition back into civilian life. In 2003, after two tours in Iraq, Colonel John Folsom USMCR recognized the challenges the families of our vets faced as they tried to navigate often traumatic injuries that can plague whole families, and wanted to create a family-oriented program to support them as they are thrust into the role of caregivers.
The mission of WWFS is to provide support to the families of those who have been wounded, injured or killed during combat operations. It serves the families of U.S. soldiers, sailors, airmen and Marines, as they understand that "when America goes to war … our families go to war."
The signs that the WWFS created for our Purple Heart recipients are free and being placed from coast to coast in businesses, churches, schools, colleges, government and medical facilities. The gesture of placing these signs is about recognizing our vets and acknowledging the sacrifices they have made for us everyday.
I latched onto this organization and their parking signs as a way to give back and honor what our military does for us every day. I asked Bob Hager, COO/partner of Ourisman Automotive of Virginia, if he would consider placing the signs in each of their six Virginia dealerships, and he agreed immediately. Said Hager: "Being raised an Army brat, I know what Army life means to a family. My father served in Korea and did two tours in Vietnam. We [Ourisman] support our military for all they do for us and this is a small token of our appreciation for our military and their families. We're honored to place these signs in our dealerships."
I also contacted Sears in the Centre Ridge Marketplace, and talked with manager Scott Brege. I hadn't even finished my sales pitch, when he said: "We're in. I have a son in law on active duty," he said, "and we would be happy to help our wounded warriors anytime we can."
I will continue to place Combat Wounded parking signs — in part, as recognition to the first and true patriot in my life, my father. But also for all the many veterans that I do know, and for those that I don't know, as I continue to consider the sacrifices they have made for me without even knowing it.
Sharon Neff
Centreville