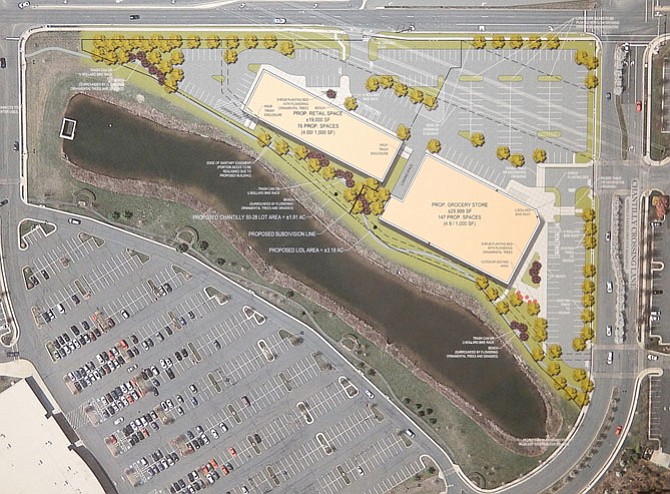 If all goes well, a little bit of Europe may someday come to Chantilly. It would do so in the form of a Lidl grocery store in the Chantilly Crossing Shopping Center.
Attorney Matt Allman, representing the applicant, presented details during the March 15 meeting of the West Fairfax County Citizens Assn. (WFCCA) Land-Use Committee.
The 5-acre site, near the intersection of Chantilly Crossing Lane and Lee Road, is zoned commercial and is currently undeveloped. Lee Road runs north and south of it, and Route 50 runs east and west of it. And retail uses are in keeping with Fairfax County's Comprehensive Plan for that location.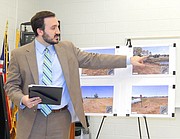 "So we filed an application in November [2015] to bring some new uses to the site," said Allman. "And we met with the Sully District Council [of Citizens Associations] last month, so we're getting their feedback, too."
What's planned are two, new buildings, next to each other. One, housing the grocery store, would be 30,000 square feet. The other, envisioned as a rectangular, 19,000-square-foot structure, would contain two or three retail tenants.
"The entrances are off Chantilly Crossing Lane, adjacent to the main entrance of the grocery store; further east on the site; and via a left turn in from Lee Road [off Route 50]," said Allman. "But there'd be no left turn out of the site."
He said there are pedestrian crossings across Chantilly Lane, plus a trail along the back of the property, near the existing pond. "And we'd add benches and landscaping," said Allman. "We're also showing two, small plazas with seating outside each building."
WFCCA Land-Use Chairman Jim Katcham asked what building materials would be used. Allman said it's still too early to know all the specifics. But, he added, "The grocery store would be brick and glass with metal accent paneling, and the other building should match it well."
In a previous plan proposed by another developer, a furniture store was going to be built on that property. It didn't come to pass but, in return for county approval to set up shop there, the developer had promised to make a $250,000 contribution to the county Park Authority. So At-Large Planning Commissioner Jim Hart asked if Lidl would "carry forward" with that donation, and Allman said it would.
Paul DeVerger, real-estate manager with Lidl U.S., LLC, said Lidl is a family-owned, European, grocery-store chain. It was founded in Germany in the 1930s as a grocery wholesaler, with its first retail stores opening in 1973. It's now one of the largest grocery retailers in Europe, with more than 10,000 stores in 27 European countries. If approved, the Chantilly store would be the first one in the U.S.
Besides Lidl offering fresh meats and produce and an on-site bakery, said DeVerger, "We sell our own brands, as well as national brands. What's made us successful is that we offer high-quality products at great prices."
Regarding the proposed site plan, WFCCA's Mark McConn worried about traffic backing up on Lee Road at Route 50. "The choke point is at the first entrance coming off Lee Road," said Hart. "There are a lot of things happening there and a lot of [drivers] crossing."
Allman then said county staff suggested removing the raised pedestrian crosswalk so it would be out of the way. "Has staff told you that, given the volume of traffic, that first entrance would work," asked Hart.
"VDOT is also looking at these issues," replied Allman. "They're examining the geometry of the intersection, the traffic volumes going in and out, and how many [vehicle] trips the grocery store is going to generate."
Kevin Fellin, with transportation planners Wells & Associates, said, "We'll meet with VDOT, the end of March. We're trying to mitigate the impact on Lee Road."
"I think traffic is your greatest challenge," said Hart. "And the left-turn lane going onto Lee Road from Route 50 [west] is very slow now."
All these matters have not yet been resolved, but they're getting attention. At the moment, said Allman, "We're waiting on the results of the VDOT review."