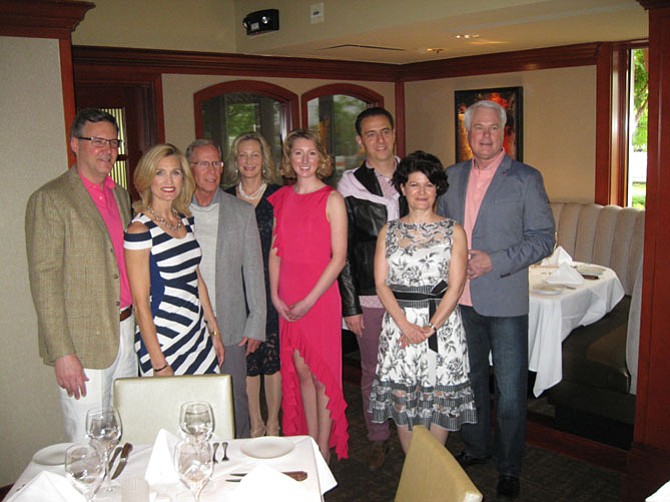 The New Dominion Women's Club (NDWC) held its Seventh Annual Spring Fling Fashion Show, Luncheon and Raffle on Sunday, May 1 at Fleming's Prime Steakhouse in the Courtyard Marriott at Tysons Corner to support four local charities. The event featured fashions from Bloomingdale's.
"It's always a great way to bring together the community in an effort to help four key local groups," said Carol Brunner, past president of NDWC. "Fleming's was recently remodeled and we're thrilled with our new venue; it's set up perfectly for a fashion show."
NDWC President Alena Lemay added, "This is our seventh annual fashion show; it's our signature event. We are thankful to Bloomingdale's for providing the outfits for our models and for working with NDWC every year."
This year's four local charity beneficiaries were Share, Inc., McLean/Falls Church Children's Center, Safe Community Coalition, and McLean Project for the Arts.
Joan Green, co-chair of the Share Food Room, one of the charity beneficiaries, said: "We rely strictly on donations and because of organizations like this, we are able to feed many more of our clients."
THE FASHION SHOW included community leaders as models, such as state Sen. Barbara Favola; Del. Marcus Simon who is Chairman of the Board of the Greater McLean Chamber of Commerce; Peggy Fox, reporter and anchor at WUSA9; Marcia Twomey, executive director of the Medical Care Children's Partnership Foundation; George Sachs, executive director, McLean Community Center; Bill DuBose, managing director, District Financial Advisors; Christina Girardi, director, Educational Programs at McLean Project for the Arts; and Derrick Swaak, COO/partner, TTR Sotherby's International Realty. John Foust, Fairfax County supervisor for Dranesville, made the opening remarks.
"I'm really pleased to support the NDWC to help sell some tickets. They do a lot of good work in the community," said Del. Marcus Simon (D-53) of Falls Church, who modeled for the event. "It's always been on my bucket list to be a model one day."
State Sen. Barbara Favola, who was also a model, added: "This fashion show is a fun event that helps build community and raise money for some very worthwhile causes...This is a grassroots organization and it really reflects how neighbors can help neighbors, and I'm really proud to be part of this event."
Peggy Fox, reporter and anchor with WUSA9 and one of the models, said: "This group gives women a great sense of community; it's also a way to raise money for wonderful nonprofits so we can give back to the community."
Christina Girardi, education director with the McLean Project for the Arts (MPA), said: "The NDWC has been an awesome partner with us. We are a nonprofit contemporary visual arts gallery; we exhibit emerging and established artists from the mid-Atlantic region. We offer educational programs throughout the year for children, teens and adults, and our ArtReach Program has Title I schools come into the galleries and we have workshops with them."
The fashion show committee included: Alina LeMay, Carol Brunner, Elizabeth Bertholon, Anne Deger, Kitty Gonzalez, Jennifer Salopek, Ignacia Moreno, Mary Ann Miller, Joan Murray and Desi Woltman. Flowers were donated by NDWC member Sherri Heile along with Flowers & Plants, Etc.
The NDWC was founded in 1968 when eight women met with the intention of forming the Junior Women's Club of McLean. In 1975, the club was restructured and in 1991, the club voted to become a general club under the Virginia Federation of Women's Clubs and was renamed The New Dominion Women's Club.
NDWC coordinates the Children's ArtWalk featuring artwork at MPA's festival. It showcases art from elementary age children from schools in McLean on the first Sunday in October. Members participate in Adopt-a-Highway on Westmoreland Street on McLean, and Reading is Fundamental at Falls Church/ McLean Children's Center. Members also donate time and financial support to help with the holiday party and backpack program and food pantry at Share, Inc. Among other things, over the past years, the NDWC has held a Spring Fashion Show, whiskey tasting evening and Arts Night Out Gallery Silent Auction at MPA. Members are also encouraged to join in other activities and social events, such as our monthly meetings on the third Monday of each month, coffee mornings and more.