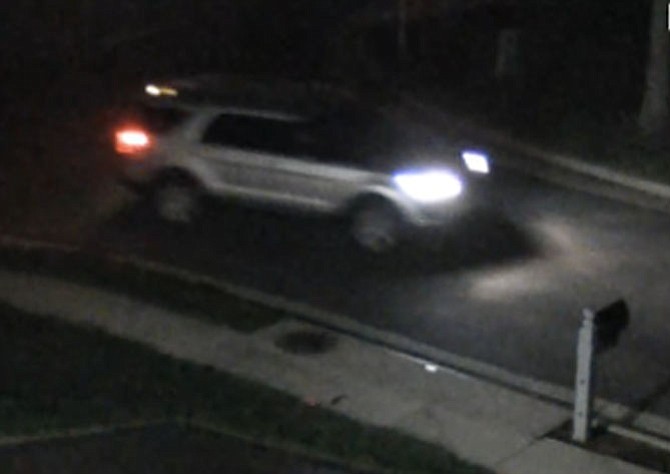 Since February, there have been 10 incidents of tires and wheels stolen from 11 GMC or Chevrolet model vehicles in the Herndon, Chantilly, Fairfax and Vienna areas. The majority of cases occurred within the Fair Oaks police district but three cases were from the Reston, McLean and Sully districts (one each).
Detectives of the Criminal Investigations Section believe these cases are related and have determined the thieves are targeting SUVs, large body trucks and Corvettes manufactured by General Motors. The suspects appear to be traveling along the Fairfax County Parkway to reach the targeted areas and it appears the majority of thefts are taking place between Sunday and Tuesday between 2 a.m. to 4:30 a.m. In all cases, the vehicles were parked outside close to the home, either in the driveway or in the street
The incidents were reported on the following dates. Location and type of vehicle are also listed:
Monday, Feb. 1: 8200 block of Madrillon Estates Drive, Vienna; 2010 Chevrolet Corvette

Saturday, Feb. 13: 4800 block of Autumn Glory Way, Chantilly; 2014 GMC Denali 1500

Wednesday, Feb. 17: 2200 block of Stirrup Iron Lane, Reston; 2013 GMC Sierra

Tuesday, March 8: 4500 block of Stone Pine Court, Chantilly; 2015 GMC Sierra

Monday, March 21: 3000 block of Heritage Farm Court, Herndon; 2013 and 2008 Chevrolet Corvettes (two vehicles)

Tuesday, March 29: 13100 block of Bramblewood Lane, Herndon; 2015 GMC Sierra

Friday, April 1: 3000 block of Hughsmith Court, Herndon; 2015 Chevrolet Tahoe

Sunday, April 3: 12800 block of Shadow Oak Lane, Fairfax; 2015 Chevrolet Suburban

Tuesday, April 12: 3200 block of Orchard Glen Court, Herndon; 2010 Chevrolet Corvette

Wednesday, May 4: 3800 block of Highland Oaks Drive, Fairfax; 2015 GMC truck
Detectives have released photos of a vehicle they believe to be involved in the thefts. The vehicle was seen on April 3 in the 12800 block of Shadow Oak Lane in Fairfax around the time of the theft that occurred in that location. The vehicle appears to be a silver 2011 to 2015 Ford Explorer SUV.
Anyone who owns a GM manufactured vehicle is encouraged to park in a well-lit area and immediately report any suspicious noise, persons or vehicles to police. Anyone with information is asked to contact Crime Solvers by phone at 1-866-411-TIPS/8477, e-mail at www.fairfaxcrimesolvers.org or text "TIP187" plus your message to CRIMES/274637 or call Fairfax County Police at703-691-2131.
--FCPD Public Affairs Bureau