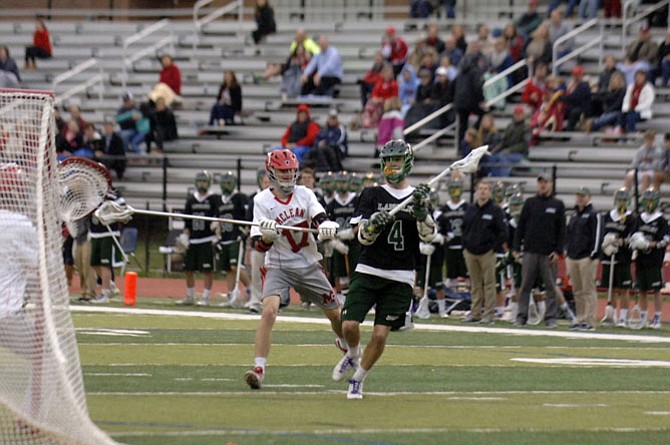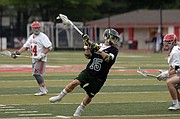 The Langley boys' lacrosse program is an annual championship contender, capturing four straight state titles from 2009 to 2012 and appearing in five of the last seven state finals.
Despite a .500 regular season in 2015, the Saxons regrouped in the postseason and reached the state semifinals.
On Thursday, Langley entered the 2016 postseason facing a steep climb in order to return to the state tournament. Despite entering the Conference 6 tournament as a bottom-four seed, the Saxons took the all-important first step of keeping their season alive.
Facing rival McLean, Langley built a four-goal lead and held on for a 9-8 victory in the conference tournament quarterfinals on May 5 at McLean High School. The Saxons secured a berth in the 6A North region tournament and will face No. 1 seed South Lakes in the conference semifinals at 5:30 p.m. tonight at Langley High School, the predetermined site for the conference tournament semifinals and finals.
"It feels excellent," said Langley senior midfielder Jon-Michael Duley, who led the Saxons with three goals against McLean. "I'm just really happy that this wasn't my last game. I'm looking forward to May and what it could possibly bring."
LANGLEY, led by first-year head coach Bo Ingalsbe, finished the regular season with a 6-8 record, including 3-4 in the conference. The Saxons entered the postseason having dropped three straight, including a 9-8 loss to McLean in the regular-season finale.
Langley entered the postseason as the No. 5 seed in the conference tournament and had to travel for the opening round. It was also the Saxons' first playoff game without long-time head coach Earl Brewer, who retired in 2015 after 21 seasons and 288 wins with Langley.
"It's strange," Langley assistant coach Matt Puccio said. "We got used to it. Early in the year was definitely a transitional time going from Earl to Bo's coaching style. It's definitely different."
Ingalsbe declined comment.
McLean took a 5-4 lead when Miles Collins scored with 9:23 remaining in the third quarter, but Langley's Duley answered less than a minute later, sparking a 5-0 Saxons run to close the quarter.
Michael Killion, Brian Weingast, Daniel Orme and Michael Levetown each scored a goal in the final 6 minutes, 13 seconds of the third quarter, giving Langley a 9-5 advantage.
McLean scored three times in the fourth quarter, including a goal by Jack Benson in the final minute, but Langley held on for the win.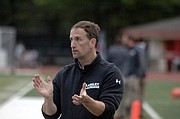 In 2015, Langley lost to McLean in the season opener ­­­ the Saxons' first loss to the Highlanders in program history. Two months later, Langley beat McLean in the conference championship game.
"I definitely feel like we had something to prove," Duley said after Thursday's win. "We lost to McLean by one a week ago and [something] similar ... happened last year, where we lost to them and we came back and beat them [in the conference tournament], and we were just looking forward to doing the same again this year."
DULEY was a second-team all-conference selection this season.
"He's everything to our offense," Puccio said. "He makes our offense go. ... He's a workhorse."
Orme finished with two goals for the Saxons. Michael Esposito had one.
Benson and Collins each had two goals for McLean. Kevin McCarthy, Eric Lawhead, Ted Miller and Gavin Legg each scored one.
McLean finished the season with a 5-10 record.
Langley improved to 7-8 with the win.
"We had to earn it this year," Puccio said. "We had to earn the victories. ... Here on out, we have to work."