Brendan Barb knew that becoming an Animal Services officer for the Animal Welfare League of Alexandria (AWLA) would be a challenge. The officers are responsible for enforcing all city codes and ordinances involving animals, both domestic and wild, and routinely rescue animals in trouble. Barb, 26, had experience working on adoptions and animal behavior training at the Vola Lawson Animal Shelter, which is operated by the AWLA, but he didn't imagine what was waiting for him in his very first week as an Animal Services officer.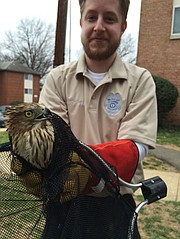 Responding to a citizen call, Barb and fellow Animal Services Officer Sgt. Tammy Doran headed out to North Armistead Street in Alexandria. There, a red-tailed hawk had become trapped in the fenced roof of a one-story-tall heating and cooling unit on top of an apartment building. Somehow the bird had made its way through a hole in the fence atop the unit and couldn't find his way out. A second hawk flew around in nearby trees, calling to him.
Donning thick wildlife-handling gloves and grabbing a butterfly-style net, Barb ascended the ladder to the area where the hawk was stuck and attempted to catch the bird. Officer Doran worked at distracting the bird. "The hawk flew around the net several times," Barb recalled. "Cornered birds of prey will lash out, so I had to be pretty careful. I could see a lot of fear in his eyes."
The rescue attempt went on for several minutes until finally, success: Barb and Doran captured the hawk and were able to bring him down to the ground safely. A quick check of his wings, beak and feet showed no injuries, so the officers decided to release him. He flew off to join his friend waiting in the tree.
It was baptism by fire for newcomer Officer Barb but an experience he treasures. "That's why we do this job — every day brings a chance to help animals in trouble."