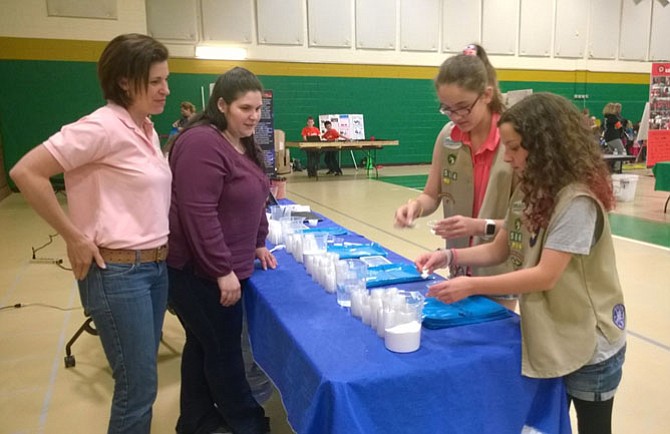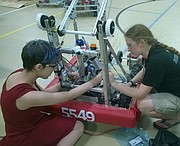 Girls Scouts ventured beyond camping and cookie sales Saturday, May 7, at the Northern Virginia Community College in Annandale, where they explored fields in science, technology, engineering and mathematics.
Although some of the fastest-growing careers spring in the STEM environment, it's not fertile ground for women, minorities and people with disabilities.
"It's still a field dominated by men," says Michelle Eider, public relations specialist for the Girl Scouts Nation's Capital.
To encourage girls to explore these fields, the GSNC started a Maker Day event last year, which drew repeat attendance last weekend at the NOVA campus.
Elena Bachman, a freshman at Marshall High School in Falls Church, attended last year's Maker Day with her Girl Scout Troop and became interested in a robotics demonstration by event vendor NOVA Labs.
Since then, Bachman joined the Marshall robotics team and has competed against other schools.
Fellow student Kirianna "Kiki" Baker, 15, claims she joined the same team due to peer pressure and credits Bachman for showing her the ropes.
"Elena has basically taught me everything I know," Baker says.
THEY ENJOY creating projects at the NOVA Labs community workshop in Reston. The 10,500-square-foot facility offers space and fabrication tools for inventors, and teaches people how to use 3-D printers, drones, laser cutters, robots and Computer Numerical Control machines that help users manufacture needed parts.
"It's a place where people can work on cool projects" Bachman and Baker explained as they repaired an actuator — a gizmo that lifts the arms of their robot, which the teens designed to complete this simple task: Storm a castle and clear defenses in a competition field. All by remote control.
Bachman said she attends Marshall because it offers an International Baccalaureate program and STEM curriculum with interesting activities — such as an engineering class in which students use the school's 3-D printer to design prosthetic hands for individuals worldwide who are disfigured by war and can use their new e-NABLE hands to perform various tasks.
Another Marshall student, Sita Nair, 16, and her younger sister, Pria, 13, explained at their booth how they made scented candles, hand soap, lip balm and salt scrub. The girls sold their beauty products to raise money for their Vienna Girl Scout troop's upcoming summer cruise around glaciers in Alaska.
"I really want to see a moose," Sita exclaims.
Little did she know a troop leader standing on the other side of the NVCC gymnasium worked on one.
Mary Nelson was among the first women in the U.S. Navy allowed to serve aboard the "Moose" — the destroyer U.S.S. Moosbrugger, a surface warship deployed in 1990 to participate in Operation Desert Shield.
Nelson, an information technology consultant for a Beltway Bandit by day, operates in her spare time eSTEAM eXplorers — a Fairfax-based business she founded to help kids in grades K-6 experience fun STEM activities.
She founded eSTEAM to bring her career in line with her daughter's interest and help other girls learn more about science, technology, engineering arts and math.
Nelson and her team design creative activity packages kids can enjoy at summer camps, schools, scouts, churches, community centers, birthday parties, b'nai mitzvahs and other special occasions.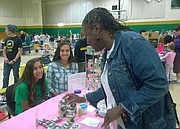 SATURDAY, she and fellow Girl Scout Troop 4914 leader Jessica Druetto showed visitors of their exhibit how to "make snow" by using water to change the physical state of a sodium carbonate polymer.
According to the American Association of University Women, gender bias toward males is the reason school girls are ambivalent about pursuing studies in math and science by the time they enter high school. They are far outnumbered by men in college and a workplace environment traditionally unfriendly to women.
This is why retired Fairfax County Public Schools teacher Laura Reasonor-Jones founded GEMS in 1994 for her own daughter and other girls excelling in math and science.
Jones now lives in a small Pennsylvania county north of Pittsburgh, which boasts 10 GEM clubs. She has maintained her strong belief that a woman should be able to support herself and a family. Jones says careers in STEM fields are among the biggest opportunities for women.
Jones' interest in technology came later in life after working 17 years as a preschool special education teacher. In 2001, she became a certified specialist who helped school teachers integrate technology into their curriculum.
"If I can learn this stuff at 50 years old, your kid can learn it age 10," Jones says.