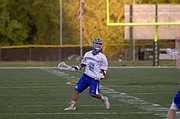 After members of the South Lakes boys' lacrosse team received recognition and the Seahawks posed for photos with the "Liberty Conference 6 Champions" banner, alumni were invited onto the field to join for additional celebratory pictures.
Later, head coach Craig Lunde called over players by grade and snapped pictures of each group.
Before players, coaches and fans cleared the field at Langley High School, Lunde and a pair of all­conference performers spoke with a reporter about their accomplishment.
South Lakes had just won its first conference title in program history and the Seahawks were going to cherish the experience.
South Lakes defeated Yorktown 8-5 on May 13 in the Conference 6 tournament final. The Seahawks overcame an early 2-0 deficit, built a 5-2 halftime advantage and led for the entire second half.
South Lakes entered the contest with a 12-1 record, including a 9-4 win over Yorktown on April 5 during the regular season, and took the next step in a memorable season.
How did South Lakes, a program with a 40-38 record during Lunde's first six seasons as head coach, become a first-time conference champion riding a 12-game win streak into the 6A North region tournament?
"They did it the good-old-fashion way: a lot of hard work in the offseason, they trained on their own, they played fall lacrosse as a team when a lot of guys are playing club and doing their own thing, so I think that was ... big," said Lunde, the conference Coach of the Year. "They had gone undefeated in the fall league, so I think that got them off to a winning start."
Lunde also credited assistant coaches Alex Clough, a 2011 South Lakes graduate and the program's all-time leading scorer, and Thomas Patterson with helping the Seahawks.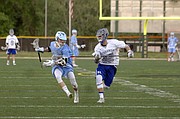 After coming from behind to beat Langley in the conference semifinals, South Lakes trailed Yorktown 2-0 in the first quarter on Friday after Patriots senior and first-team all-conference attackman C.J. Stowell put a pair in the net. The Seahawks weren't fazed, however and tied the score at 2 by the end of the quarter with goals from junior long stick midfielder Matt Hughes and senior attackman Tommy Jung.
Jung scored his second goal with 7:45 remaining in the second quarter, giving South Lakes a 3-2 advantage and putting the Seahawks ahead to stay.
Jung, a first-team all-conference selection who will play at Babson College, led South Lakes with three goals.
"I think it's the offseason," Jung gave as a reason for South Lakes' success. "This year, everyone is just so focused on trying to win states. It's our mentality."
Hughes, a Mercer University commit and the conference Defensive Player of the Year, scored two goals for the Seahawks. Eric Ottman and Spencer Alston, each a first-team all-conference selection, and Chris Sherbert each scored one goal.
Senior goalie John Hughes, a second-team all-conference selection, had 14 saves for the Seahawks.
"Knowing that this is going to be our legacy," Jung said in reference to South Lakes winning its first conference title, "it's amazing."
The Seahawks enter the region tournament as the No. 1 seed from Conference 6 and face Stonewall Jackson at 7 p.m. tonight at Herndon High School.
"I think we can go all the way to states," Matt Hughes said. "I don't think any team can really compete with the heart that this team has ..."