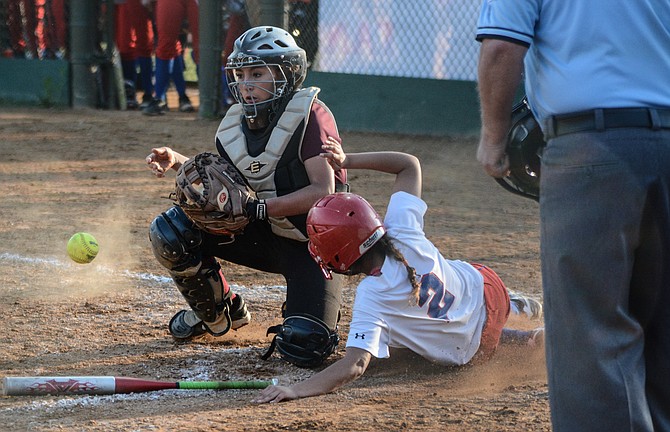 After Jillian Stone hurled strike three past a Mount Vernon batter for the final out of the game, the T.C. Williams junior stepped out of the pitcher's circle and removed her protective mask.
Infielders jogged up to hug Stone, who limited her initial expression of excitement to high-fiving a teammate who emerged from the dugout.
After going through the postgame handshake line, Stone and the Titans headed out to right field and finally let loose.
The T.C. Williams softball team defeated Mount Vernon 2-1 on Monday in the opening round of the Conference 7 tournament at Witter Field. With the victory, the Titans secured the program's first region tournament berth in more than a decade and advanced to the conference semifinals. They will travel to face South County at 6:30 p.m. on Thursday.
Why was Stone so calm after the final out?
"I was really excited," Stone said, "but it was setting in still because we've never done this before. I was still soaking it in."
T.C. Williams finished the regular season with an 8-6 conference record, winning four of its final six games, and entered the tournament as the No. 3 seed. Monday's win was the next step for a program that hasn't won a district championship since 1989.
"They knew how big of a deal this was," TC head coach Jennifer Ushe said. "We've been talking about it for a week now. They want their season extended, so they're very excited."
Stone, who was born 10 years after TC's last district title, threw a complete game on Monday and earned the win. She allowed one run on four hits while walking one, hitting one batter and striking out 10 in seven innings.
Stone worked her way out of a bases-loaded jam in the top of the sixth. With one out and TC leading 2-1, Stone induced a ground ball to shortstop Sarah Leckman, who threw home for the force out. Stone then struck out the next batter to escape unscathed.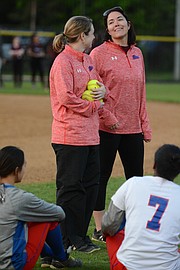 "She's got a lot of poise," Ushe said. "That's been huge this year. Any situation with her and we feel very confident that she's going to find a way to get out of it."
TC scored both of its runs in the bottom of the third inning. Center fielder Simone Haskins scored the first run on a wild pitch, and senior Calla Zane scored what proved to be the winning run on a fielder's choice.
Mount Vernon took a 1-0 lead in the top of the first, when second baseman Katherine Hutchinson hit a one-out single and pitcher Susannah Anderson followed with an RBI triple.
Anderson suffered the loss for the Majors. She allowed two runs on four hits in six innings. She walked three and struck out six.
Hutchinson had two hits for Mount Vernon. Anderson and Castillo each had one.
Stone, designated player Brittany Shelley, second baseman Kayla Shelley and pinch hitter Amanda Dorris each had a hit for the Titans.
What is it that made this TC team the first in more than a decade to qualify for regionals?
"I think part of it is that they've all played together for a really long time, even since rec league," Ushe said. "I think that helps. When you keep kids together and they get to this level, they know how to play with each other. They're all friends, so that's always helpful."
Leckman praised the coaches.
"[T]hey're the reason," Leckman said, "we're here."