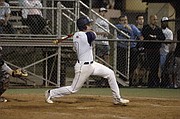 Brady Ryan saved his best swing of the night for when it mattered most.
Ryan's double in the bottom of the sixth inning of the Conference 5 championship game drove in the first of three Charger runs in the frame and the Chantilly baseball team held on to beat Centreville 4-2 on Friday at Westfield High School.
Chantilly, making an appearance in the conference tournament final for the fourth straight season, led 1-0 entering the sixth inning. Designated hitter Seven Kirk put Centreville in front with a two-run triple in the top half, but the Chargers responded with three runs in the bottom half to repeat as champions.
Chantilly's Brett Norwood led off the bottom of the sixth with a single. Two batters later, Ryan tied the score at 2 with a double.
"I hadn't been hitting well all game --- I rolled over twice," Ryan said. "I just thought I was due. I got the pitch I wanted and put a good swing on it --- put my best swing on it all day in the biggest [moment]."
A pair of Centreville throwing errors led to two more runs for Chantilly, giving the Chargers a 4-2 advantage. Chantilly pitcher Forrest Wagner retired Centreville in order in the seventh.
"I told these guys before the game, yes, a lot of these guys have been in this game before, but to not underestimate the importance and to go out and go win themselves something," Chantilly head coach Kevin Ford said. "We had a great regular season, but you've got to win a championship. They're all special."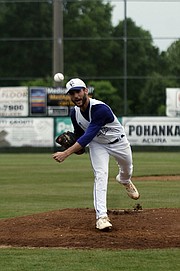 The victory improved Chantilly's record to 19-2. The Chargers remained undefeated against Conference 5 opponents thanks to Friday's sixth-inning rally.
"We'd been struggling all game and team morale was a little lower than it has usually been --- we're not used to being down," Ryan said. "I know the senior guys really were intense. We kept our composure and we … knew we were going to do something …"
Wagner earned the win for Chantilly. The senior left-hander threw a complete game, allowing two earned runs on four hits in seven innings. He walked four and struck out eight.
After surrendering the two-run triple with no outs in the top of the sixth, Wagner retired the next three Centreville batters and left the runner stranded at third.
"I knew," Wagner said. "I just had to pound the strike zone."
Ford praised Wagner's performance.
"Enough can't be said about Forrest Wagner and what he did tonight," Ford said. "Throwing a complete game, giving up a couple runs and having a man on third, no outs and getting out of it. … He was tremendous."
Jared Enders, Jared DiCesare, Ryan Krueger, Garrett Snedeker, Norwood and Ryan each had a hit for Chantilly. DiCesare and Ryan each had an RBI.
Centreville left-hander Carter Egbers suffered the loss. He allowed three earned runs on six hits in 5 1/3 innings. He walked one and struck out four.
Chantilly, which won the region title in 2014 and finished state runner-up the last two years, will host West Potomac in the opening round of the 6A North region tournament at 7 p.m. on Wednesday, May 25.
Centreville will host Annandale at 7 p.m. on Wednesday.