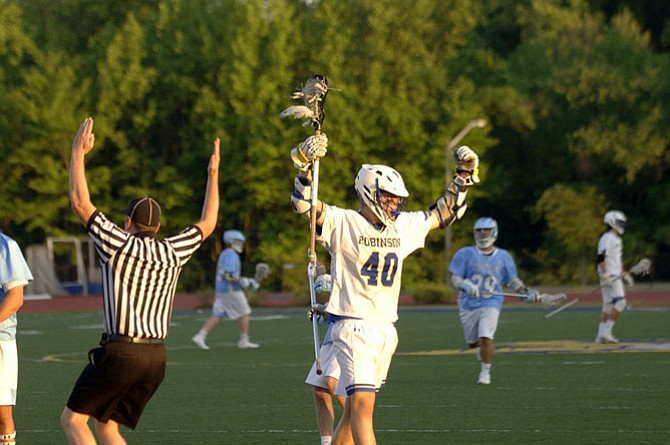 The Yorktown boys' lacrosse team was on the receiving end of multiple compliments following its 6A North region quarterfinal matchup with Robinson on May 19. Unfortunately for the Patriots, the praise came in the form of a parting gift.
The Rams, two-time defending state champions, jumped out to a five-goal first-half lead and defeated the Patriots 12-5 at Robinson Secondary School. Robinson secured a state tournament berth for the third consecutive season and advanced to the region semifinals, where the Rams will host Madison at 7 p.m. tonight.
Yorktown ended the season with a 12-7 record. The Patriots finished runner-up in the Conference 6 tournament.
The May 19 meeting was the fifth between the two programs in the last three years, with Robinson winning four. Yorktown's lone victory over Robinson during that stretch came last season, when the Patriots knocked off the Rams 7-5 during spring break. Yorktown is the only public school program to beat Robinson at Coffey Stadium in the last three seasons.
"Besides Chantilly, Yorktown plays us probably the best straight up," Robinson senior Austin Henry said. "Whenever we play them, our games seem to be good games. ... When they come, they come to play."
The Rams pulled away in the second quarter of Thursday's game, avoiding a second home loss to the Patriots in as many years.
"When it comes down to it, talent is always going to win out," Robinson head coach Matt Curran said. "You can have the best coaching in the world, but if you don't have talent, you're not going to [win]. [The Patriots] have talent, especially [senior defenseman] Conor Shears and [senior] Mason Pollack in the cage. Those guys are amazing. When you have those guys, the rest of it just kind of [works]."
Robinson is a talented team, as well, and the Rams took care of business, earning a trip to the region final four. Henry, who will play for VMI, and freshman Declan Connolly each scored four goals for the Rams. Henry added an assist.
"He's added so much to our offense," Henry said about the young standout Connolly. "I think without him, we wouldn't be scoring the goals we've scored."
Connolly received praise from his coach, as well.
"At this point ­­­ I think I've heard [Duke men's basketball coach] Mike Krzyzewski say this ­­­ at this point, you're no longer a freshman," Curran said. "This far into the season, he's started 17 games for us. He's [one of our top scorers]. He's a special talent, he really is. He did an amazing job, again, tonight."
Junior midfielder Nick Dillon scored two goals and had two assists for Robinson. Danny Krug and Devin Townsend each had one goal, and Johnny Daniel, who will play at VMI, had three assists.
Sophomore midfielder Tyler Stowell led Yorktown with two goals. Senior midfielder Pearson Savarino, senior attackman C.J. Stowell and Shears each scored one goal.
Robinson enters Wednesday's contest with a 16-2 record.