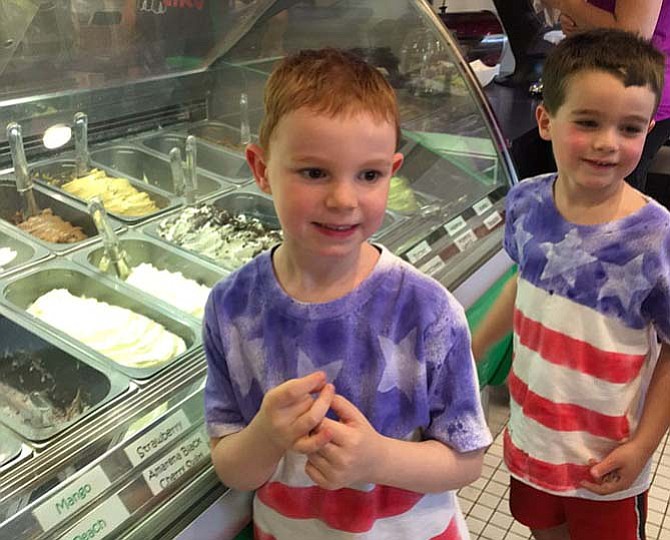 From one end of Vienna to the other, there are small businesses loaded with a loyal customer-base who may not be famous – yet – in the community. Quality products and a dedication to outstanding customer service is their benchmark.
Here is a virtual tour of these loved businesses.
New kid in town is Crust Pizzeria, at 8415 Old Courthouse Road, around the corner from McDonald's in the Tysons area. Their VPN-certified pizza (that's Verace Pizza Napolitana) is made with imported DOP San Marzano tomatoes and 00 flour from the Campania region of Italy. Pizza maestro Tonino Topolino comes from Naples and is trained as a VPN-certified pizza chef. A wood-fired brick oven anchors the kitchen.
The classic pizza Margherita is as authentic as you will find in the U.S. New Yorker and Italy travel specialist David Rosati calls Crust's pizza the "best" American pizza outside of New York.
Hours for Crust are Monday, 11:30 a.m. to 9 p.m.; Tuesday through Friday, 11:30 a.m. to 10 p.m.; Saturday, noon to 10 p.m.; and Sunday, noon to 9 p.m. 703-663-8233.
A historic house sits at 131 Church St. NW, its exterior looking much as it would have early in the 20th century. Inside this house is a Vienna institution, Guarantee Shoe Repair, owned by Manuel and Maris Fesdekjian for 36 years. What makes Manuel's business valuable in Vienna – besides its longevity – is Manuel's congenial manner, calling customers by name as they walk into his shop. Guarantee smells like leather, and, from a doorway, you can watch Manuel work. He prides himself on making shoes "look like new," and his history with many of his loyal customers.
Guarantee Shoe Repair is open from 9 a.m. to 6 p.m. every weekday, and from 9 a.m. to 4 p.m. on Saturday. The family-run shop is closed on Sunday. 703-938-8881.
Profeed, a premium pet-food/supplies shop, has been a good neighbor in Vienna for nine years. General Manager Adrien Henric attributes the shop's reputation to its high-quality food, friendly staff, competitive prices and its active role in the community, from supporting local nonprofits to schools with raffle and auction prizes.
Rudy's Friends Dog Training offers dog training workshops at the Vienna store.
The shop, a stand-alone building near Wells Fargo Bank, is at 234 Maple Ave. East. 703-242-7387.
Profeed is open Monday through Friday, from 10 a.m. to 8 p.m.; Saturday, 10 a.m. to 7 p.m.; Sunday, 11 a.m. to 6 p.m.
A sibling to Pazzo Pomodoro, Pazzo To Go Gelato sells Italian ice cream – gelato – in a separate storefront next door to Pazzo Pomodoro. The gelato, in classic Italian fruit and confection flavors, is made on site. Currently, Pazzo Gelato is open on weekdays from late afternoon to mid-evening, but, that will probably change once school is out for the summer.
Prices for cups and cones start at $4.50, and to-go cartons start at $9.50 for a pint.
Currently, Pazzo Gelato is open Monday through Thursday, 3 to 9:30 p.m.; Friday, 3 to 10:30 p.m.; Saturday, 1 to 10:30 p.m.; Sunday, 1 to 9:30 p.m.
Pazzo To Go Gelato, also known as Pazzo Gelato, is at 118 Branch Rd SE, between Pazzo Pomodoro and Cenan's bakery. 703-281-7777
Meanwhile … at the far end of Vienna near the intersection of Maple Avenue and Nutley Street is a fairly-new-comer, The Polish Market, owned and operated by Jacek "Jack" Skrzeszewski. Most of the shop's non-perishables are from Poland, while most of the meats are made in a Polish meat company in Chicago. Pastries, stuffed cabbage, and fresh pierogies come in fresh on Fridays from New York. There are 400 varieties of kielbasa (sausage) and the Polish Market sells a diverse selection of kielbasa, ranging in price from $5 a pound to about $9 a pound.
The Polish Market is at 431 Maple Ave. West; 703-261-6385.