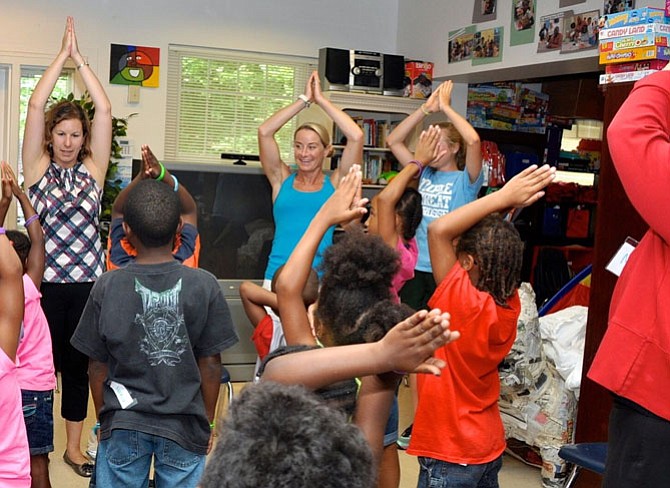 If the journey of a thousand miles begins with a single step, then Brooke Sydnor Curran has completed many journeys since founding the RunningBrooke Fund seven years ago. With the goal of completing a marathon a month, she has traveled the world running for local charities and will cross a milestone finish line Oct. 30 when she competes in the 41st annual Marine Corps Marathon.
"I'm in total disbelief this week," said Curran as she prepares for her 100th marathon for the RunningBrooke Fund. "I haven't had time to think about the huge accomplishment this is. I'm more worried about the 100 runners coming into town that will run as part of the RunningBrooke team. Each one has individually raised nearly $1,000, which will have a huge community impact and I want them to have a great experience."
Curran, a self-described former chain smoker who had never run anything more than the local Turkey Trot, ran her first marathon — also the Marine Corps Marathon — in 2004.
"My decision to run a marathon was a sort of post-9/11 reaction," Curran said.  "I wondered along with many others 'are we going to wake up tomorrow?' I wanted to start leading my life rather than let life lead me so I thought I'd run a marathon and check it off the list."
But as soon as she crossed the finish line, Curran was hooked.
"When I crossed that finish line, I immediately thought 'I can do better,'" Curran recalled.  "I wanted to get faster, qualify for Boston, win my age group — but the better I got the less it meant to me."
Curran was waiting at a stoplight on Mount Vernon Avenue when she locked eyes with a young woman struggling while pushing a stroller. It was then that the idea for RunningBrooke hit her.
"I knew then that my life's purpose was to work to make a difference to those moms and kids who live so close to me," Curran said.
Since its inception, RunningBrooke has raised $1 million, built two playgrounds in the Taney Avenue and Hume Springs neighborhoods and worked with more than 30 charity partners to provide services to more than 5,000 children in the City of Alexandria. During this time, Brooke has run one marathon every month to raise awareness and funds for RunningBrooke. She has run at least one marathon in every state and on every continent.
"I look at myself then — a naïve runner who knew nothing about what she was about to encounter," Curran said. "I had no idea what is was going to be like to run with 30,000 other people then suddenly I'm in a competitive field of runners from around the word. It was overwhelming."
Curran, whose fastest marathon was a time of three hours and nine minutes, will be running Sunday's marathon with her 23-year-old daughter Clare.
"I'm feeling strong," Curran said of her final week of preparations. "I am looking forward to sharing this experience with her. Runners are coming across the United States to run with our team and I am excited to bring that revenue to Alexandria."
Sunday's milestone will not be the end for Curran, who plans to continue running a marathon a month for local charities.
"I was given a thumbs up in life and never had to worry about much," Curran said. "Since 2009 it has been my desire to put meaning into my running, to make a difference and to level the playing field for so many kids in Alexandria."
Sunday's race culminates seven years of fundraising for Curran, who hopes to expand RunningBrooke in Alexandria and beyond.
"I know it sounds trite to say 'it takes a village' but it's true," Curran said. "Through Spring2Alexandria, thousands of donors are helping and my goal is to get every kid moving before, during and after school. I want each child to have a playground to walk to and for each of them to be able to lead a great life in our great city."
For more information on the RunningBrooke Fund, visit www.runningbrooke.org.