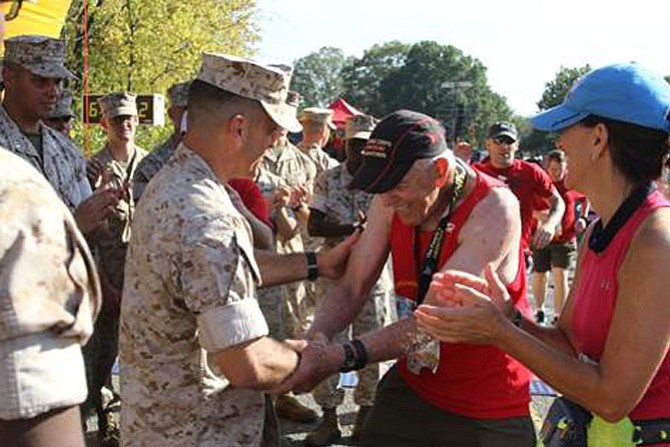 In 1976, Al Richmond was part of the team organizing the inaugural Marine Corps Marathon. With little more than 1,000 runners expected to participate, Richmond decided to run the race that was designed to help with recruiting efforts. When the Arlington resident crossed the finish line of the 2016 race Oct. 30, he became the only individual to complete every MCM since its inception.
"I've been very, very fortunate to never have a serious injury," said the retired Marine Colonel. Richmond is now the MCM's last remaining "Groundpounder," a term used to describe a runner who has completed every MCM marathon.
Wearing bib number 41 in honor of the 41st anniversary of the race, Richmond completed the course in 6:39:47.
"I'm glad I could do it again, and my daughter ran with me again," said Richmond, a longtime resident of the Maywood neighborhood. "We may have been a little slow with the heat but I always feel good running it."
Fellow Groundpounder Will Brown of Raleigh, N.C., started but was not able to complete this year's course in the required 14 minute per mile pace. As recently as 2013 there were four remaining Groundpounders.
"There were originally seven of us," Richmond said. "I wish we were all still together." 
Army Spc. Samuel Kosgei, 32, from Junction City, Kansas, won his second MCM with an overall time of 2:23:53. Kosgei won the 2014 race and is the sixth MCM finisher to be a two-time champion.
Arlington's Desta Beriso Morkama, 31, finished in second place with time of 2:24:29 with Oscar Caron Santos, 33, of Mexico, taking third in 2:25:03.
Arlington's Michael Wardian, 42, finished in 2:34:39, taking 10th place and his first Master's title. He will compete in the New York City Marathon Nov. 6 in his quest to become the fastest runner to complete all six Abbott World Marathon Majors races in the same calendar year.
Women marathoners were led by Perry Shoemaker, 45, of Vienna, who finished in 2:51:48. Army Capt. Meghan Curran, 30, of Denver, captured second place finishing in 2:53:19 with Arlington's  Nicole Irving, 24, taking third place in 2:53:32.
The MCM10K race yielded 5,068 finishers with Geophery Mills, 28 of Nokesville, Va., winning the men's division in 38:01 followed by Jared Dashevsky, 21, of Cherry Hill, N.J. (38:26) and Exavier Watson, 37, of Germantown, Md., in 38:38. Eleven-year-old Caleb Hymans of Annandale finished fourth in 38:54.  
Allison Parks, 20, of Annapolis, captured the overall MCM10K title for women finishing the 6.2-mile event in 41:59. Marey Scully, 29, of Hastings, Minn., took second place (42:25) and Diana Castro, 41, of Clarksburg, Md., completed the course in 43:01, taking third.
For complete results, visit www.marinemarathon.com.