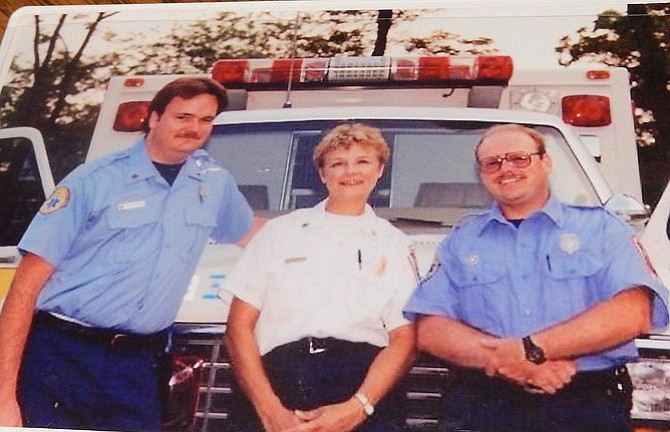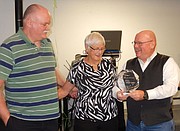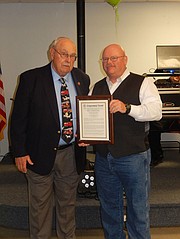 Centreville — During Pete Kirby's retirement celebration Saturday night, a video highlighting his career was shown. He then received several awards.
Dave Parker and Sue Yamashita, who rode with Kirby when he drove an ambulance for Centreville's volunteer fire department, presented Kirby with a Lifetime Achievement Award. "No one made me laugh like Pete," said Parker.
Kirby has done public-safety consulting for Booz Allen Hamilton since the early 1990s, and still does, and that company's Paul Torpey presented Kirby with an award for his 40 years of "loyal and dedicated service to the citizens of the Commonwealth of Virginia."
Charlie Singleton, former Vienna VFD chief, gave Kirby a plaque of his name read into the Congressional Record. Noting that Kirby also served as the third vice president of the Virginia State Firefighters Association, it read that he leaves office "with a legacy of hands-on leadership and deep community ties."
Tom Eisenhardt, who was a volunteer fire captain at Centreville when Kirby was chief there, said, "This man speaks from the heart. He's honest, sincere and thinks of everyone else. I'm honored to have served with you, Pete, and I thank you for everything."
Then, addressing the crowd, Kirby said, "I never expected anything like this. I look around this room and see parts of my life, and I can't express how much you all mean to me." He said how heartwarming it was, not just to see family and friends, but people he's served with at Centreville's Fire Station 17, Vienna's Station 2, the state association and the police 911 call center, where he dispatched fire calls.
Inspired by his uncle, Austin Kirby, who was a fire chief, and a firefighter cousin, Kirby was fascinated with firefighting from an early age. "Growing up in Oakton, I heard the Fairfax fire sirens," he said. "And when I was 12, I went to a fire at the Drug Fair on Jermantown Road. Everyone was inside fighting the fire, and one firefighter outside saw me and called, 'Hey, Kid.' He needed help and asked me to fill the pressured-air bottles for the firefighters when they came outside, so I did."
Another time, still age 12, he helped direct traffic while Fairfax City and Vienna firefighters were battling another blaze on Jermantown. Afterward, one of them told him he could volunteer at the Vienna station when he was 16, which he did — and the rest is history.
After serving 14 years there, Kirby switched to Centreville's Volunteer Fire Department in 1990. But it wasn't in his plans. "We bought a house in Centreville while I was working [dispatch] shifts for the police department, and I thought of getting out of the fire business," he said. "I had two young boys and we took them to an open house at Station 17, and the people there asked me to join them."
At the time, he said, "Centreville had six riding members. But with the past chiefs, we worked to develop the volunteers. And now we have one of the strongest departments in the county. When I left as chief, we had 35 operational members and had built great relationships with career staff there."
And Kirby always knew he was making a difference. "My youngest patient was a 24-hour-old baby having trouble breathing," he said. "We took it to the hospital and the baby made it; we saved a life."
In the early days, he drove both an ambulance and a fire engine. He later became a command officer but, since the majority of calls are for medical emergencies, he continued driving an ambulance. He served as chief from 1992-2006 and then assistant chief. He also became qualified as an incident safety officer.
As chief, Kirby modernized Centreville's fleet by buying different types of ambulances and fire engines with better capabilities. He also campaigned for an all-terrain vehicle called a Gator, so they could reach off-road patients and then transfer them to a regular ambulance.
"There were so many wooded areas in western Fairfax County where it was difficult to retrieve patients, such as Bull Run Regional Park and at special events like Centreville Day, where it wasn't practical to get an ambulance through the crowds," he explained. "The county was slow to respond to our request, but the 9/11 attack changed that."
During Kirby's tenure, he helped develop an agreement with the Board of Supervisors for Station 17 to co-operate the new West Centreville Station 38. So both stations provide its people and vehicles. Kirby also acquired two, fire-hazard houses to teach children about fire safety. And his station started the Emergency Medical Bike Team to provide medical care at special events, such as festivals.
Among the big fires was a three-alarm blaze at an apartment complex on Woodmere Drive. "It was challenging because a lot of the fire was in the attic, where we couldn't reach it," said Kirby. "So Chantilly [firefighters] came and brought a special piece of equipment." Another time, two residential buildings on Braddock Springs Road caught fire. "It was well-advanced before anyone notified us," said Kirby. "We had a close call because a ceiling collapsed and separated our crew members and we worried that we'd lost someone in the fire. But everyone made it out safely."
Station 17 became a shelter for the people displaced by that fire, and the station's Ladies Auxiliary provided comfort and aid. It was also used to shelter 25-30 scared and soggy Cub Scouts who were stranded by a flood. "Heavy rains flooded the western part of the county while a Scout troop from Maryland was camping in Bull Run Regional Park," said Kirby. "The water rose quickly and they became trapped, so we had to rescue them. The Ladies Auxiliary provided blankets and hot food and even opened the Bingo game so they had something to do."
On 9/11, Kirby was on duty for five days straight after the attack. The first three days, he was on an engine, countywide, covering empty stations that had responded to the Pentagon. The next two days, he served as battalion commander for other officers who were also at the scene. "On 9/11, we mobilized everything we could muster to respond to the attack," he said. "If the Coke machine had had a red light on it, I'd have put a crew on it and sent it, too."
Even during regular fire calls, firefighters can't always save everyone. "It's tough when you have to tell someone about the loss of a loved one, and I did that many, many times in my 40 years," said Kirby. "It never got easier; but the training I received as a volunteer prepared me to be strong, and my God above gave me the strength to know I could get through it."
But, he stressed Saturday, "This is a team sport. I'm humbled by the honor and appreciative that you all took time out of your lives to be here tonight." Afterward, Kirby said he was "overwhelmed. It was an amazing turnout, and I'm humbled by all the nice things people said. I thank everybody in the community for their support while I was chief, and everybody in the fire department for what I've gotten to do. But I couldn't have done any of it without my family's support."
Noting the many friendships he made with both career and volunteer firefighters through the years, he said, "So many people really wanted to do the best they could, and helping the community was the most rewarding part. I've enjoyed everything I've done, but I wanted to retire before suffering any permanent injuries."
"It's a very challenging and demanding job, physically and emotionally," continued Kirby. "It's not easy work. You do difficult tasks and see things people shouldn't ever have to see. I'll miss responding to calls, working with the career staff and being a commander for special events. But it's time for younger folks to do it and for me to start a new chapter."