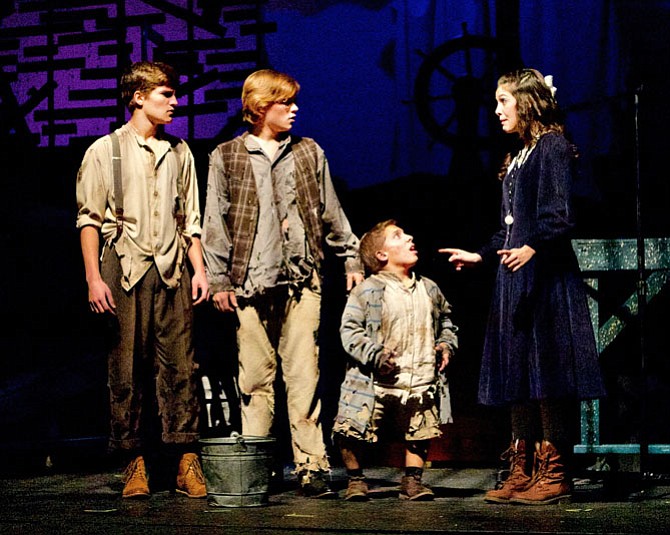 Chantilly — It's a simple question, really — what do you want? If you could have anything in the world, would you want treasure, to stay young forever, or even the power to fly? Imagination and childhood whimsy collide in Chantilly High School's "Peter and the Starcatcher," a play filled with unending quirks and enough "starstuff" to make the whole company dazzle.
"Peter and The Starcatcher" follows the adventures of Molly, the aforementioned "Starcatcher." as she tries to complete the mission assigned to her, and the Boy, an orphan with no name and a hatred of grownups. The show is based on the 2006 novel by Dave Barry and Ridley Pearson, which was written as a prequel to J.M. Barrie's "Peter and Wendy," the original Peter Pan story known and loved by many. The production premiered Off-Broadway in 2011 before transferring to Broadway in 2012, then returning to Off-Broadway at New World Stages through 2014.
The cast brought flexibility and fluidity to the narrative. In the role of Molly Aster, Caroline Barnes struck the perfect balance of intellect and insecurity to model a 13-year-old on the cusp of womanhood. Alongside Barnes, Evan Belsky soared as the Boy (Peter), drawing on tales of a traumatizing childhood and a grounded demeanor to construct a heartbreaking performance. The innocent romance that blossomed between the two was entirely genuine, complete with the common missteps of young love, such as a spontaneous kiss that led to heated discussion, as well as unending competitive spirit.
Of course, heroes are only as good as their villains. Luckily, the villains did not disappoint. The flamboyant tendencies of romantic pirate Black Stache (Adam LeKang) coupled with the zany theatrics of his right-hand man Smee (Maria Benincasa) made for hilarious moments throughout the show. LeKang and Benincasa's enthusiasm for whatever crazy scheme they had just cooked up made the two standout performers delightful to watch. Contrasting the crazy was the sweet relationship between Molly's nanny Mrs. Bumbrake (Adriana Castillo) and shiphand Alf (Randy Weidmann). Both actors had moments of charm and hilarity, and did a fantastic job of portraying older characters despite little noticeable age makeup. Wrapping everything together into an entertaining package was the ensemble, whose fluidity as a whole helped the show transition smoothly from one scene to the next.
The technical aspects of the show combined quirky and classical to create scenes straight out of a child's imagination, set and sound especially. The set featured a myriad of different shaped and sized platforms as well as a 4-foot-tall slide decorated with natural elements that cultivate the idea of the ocean and a starry night sky, with just a touch of magic thrown in. Sound added key elements of realism to the show, including ship creaking noises, magical tinkling bells, and a cacophony of storm sounds to close out Act 1.
Chantilly High School composed a child's fantasy with their production of "Peter and the Starcatcher." With outrageous characters, phenomenal tech, and enough surprises to fill a trunk, playing pretend has never seemed so real.