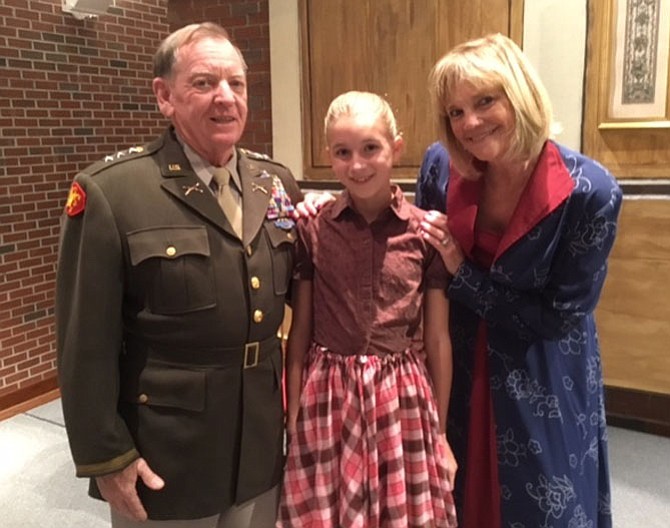 Centreville — With their former, WWII Army commander in danger of losing his country inn in Vermont, song-and-dance team Bob Wallace and Phil Davis come to the rescue. They join with singing sisters Judy and Betty Haynes to put on a sparkling holiday show that, hopefully, will save the inn.
That's the storyline of "White Christmas," the upcoming Irving Berlin musical being performed by Lord of Life Lutheran Church, across from Little Rocky Run, near Centreville High. Set in the 1950s and featuring a cast and crew of 50, it'll take the stage Nov. 4-12.
"We have four fantastic leads, and the whole cast is amazingly talented at not just acting, but also singing and dancing," said Director Suzy McCarthy. "We have three, specialty dancers performing in the production numbers, and our choreographer is the award-winning Susan Brock, who's done community theater in this area since 1980."
There's a live combo including pianist Michael Thompson, who plays at the church regularly. One of the pastors has a main role, and the lead pastor, Nathan Swenson-Reinhold, makes a cameo appearance. The scenes take place at the Ed Sullivan Theater, a New York nightclub, the inn, a barn and on a train.
"People will enjoy seeing this beloved story performed in front of them," said McCarthy. "They'll catch the energy and excitement of live stage. We like to do something Christmas-themed to get everybody in the holiday mood."
Retired Centreville High teacher John Totten, of Clifton's Cavalier Woods community, plays Bob Wallace, the more famous of the song-and-dance duo. "Phil keeps trying to set Bob up with a girl, and Bob keeps resisting," said Totten. "But this time, with one of the Haynes sisters, he might succeed. Bob likes to appear stoic and serious; but underneath, he has a tender heart. He and Phil were in the Army together and have become successful in show business."
Delighted with his part, Totten said, "For a guy like me, who loves Bing Crosby [who played Bob in the movie], it's a dream role. I get to sing a bunch of great songs, do some musical comedy and work with some neat people. His favorite song is "Count Your Blessings," which he sings alone and as a duet with Kate Ives, who plays Bob's love-interest, Betty. "It's got a great sentiment," said Totten. "The message is; No matter how bad things seem, you can count your blessings and get through it."
Calling it a show good for the whole family, Totten said, "Most people are familiar with the story, and Irving Berlin's music will appeal to all ages. And you can't get any better entertainment for $15."
Portraying the financially struggling inn-owner, Gen. Waverly, is the Rev. Bruce Burslie. "He's tough on the exterior, but soft on the interior," said Burslie. "He's having a hard time not being in the Army, anymore. But his former troops really love him, so they're trying to help him. I love this part because I spent 27 years in the Army, and Waverly's a fine example of leadership. And I like that he's a general on the outside, but a caring person on the inside."
Burslie especially likes the title song, "White Christmas," which he sings with an ensemble. "It's sentimental, represents the meaning of Christmas to me and embodies the Christmas spirit," he explained. "This is a nostalgic, family show, and the audience will enjoy the music, the period setting and the humor – and it's basically a love story."
Fairfax resident Katherine Iooss, an FCPS elementary-school music teacher, plays Judy Haynes. "She and her sister Betty are looking for their big break," said Iooss. "Judy tries to make it happen by getting Phil and Bob to come see them perform in New York. Then they all end up performing at the inn together, and Phil plays matchmaker between Bob and Betty, while he and Judy connect."
"Judy is fun-loving and outgoing, but Betty's more straight-laced," continued Iooss. "Judy's smart, wants a career for a while and wants to help her big sister make it in show biz. She sees Betty as the real starlet."
Saying she's "having a blast" with her role, Iooss said, "It's fun to find out I can do some things I didn't think I could, like dancing onstage. My late mom was a dancer, and I carry her makeup case onstage with me. I teach music to kids all day long; but every night, I get to do it, myself."
She loves singing the harmonies in "Sisters" and "I Love a Piano." Because she's a soprano, she doesn't usually get to perform harmonies. So, said Iooss, "This lets me challenge myself, and it's fun." She said this cleverly written show will let the audience escape from the serious news of today's world into a simpler time. "They'll love the music and our fabulous pianist – the whole experience," said Iooss. "And with the witty lines, plus the songs of Irving Berlin, you can't go wrong."
Portraying Phil Davis is Buz Ringler. "He's a ladies' man who likes to play the field," said Ringler. "Although he doesn't want to give up his single life, he's smitten with Judy. He and Bob are good buddies; in the Army, Phil was a private, and Bob, a captain, so Phil always feels intimidated by the general."
"I love my role," continued Ringler. "It's fun to play a playboy and flirt with the females in the cast. And I also get to sing and dance, which is great. My favorite number is 'I Love a Piano.' I saw this show on Broadway and always wanted to do it because of that song. It's a fun, upbeat tune that Judy and Phil sing together."
Overall, he said, "'White Christmas' is a great show for this time of year, and you can't beat the music. The audience will leave the theater not humming, but singing, the songs."
To Go
Show times are: Friday, Nov 4, at 7:30 p.m., Saturday, Nov. 5 at 1:30 and 7:30 p.m.; Thursday-Friday, Nov. 10-11, at 7:30 p.m.; and Saturday, Nov. 12 at 1:30 p.m.
Tickets are $15; call Judy Treichel at 703-323-5389. Homemade refreshments will be served during a reception at intermission. Lord of Life Lutheran Church is at 13421 Twin Lakes Road, off Union Mill Road, near Centreville High.