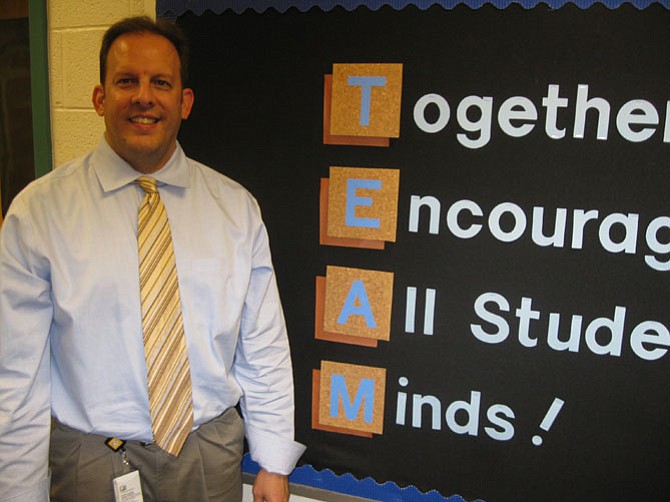 Centreville — With 17 years in education, Jason Pensler, age 42, was named the new principal of Bull Run Elementary School in Centreville on Aug. 1, replacing Patti Brown, who retired. The South Riding resident oversees the school of 832 students and 100-plus staff members.
"When I think of Bull Run and our kids, we support a very diverse population both academically and culturally, which makes us in my mind the best in Fairfax County," said Pensler. "Being able to be a school where our student population is representative of the area that we reside in, not only in Centreville, but in Northern Virginia, enhances our learning opportunities here at Bull Run."
The ethnic breakdown of students is 33.5 percent white; 21.7 percent Hispanic; 30.6 percent Asian; 9.1 percent Black; and 5.02 percent other, according to the school's website for 2015-2016, the most recent data. The General Education number is 68.9 percent; Advanced Academics Level IV is 25.5 percent; English Language Services is 19.3 percent; and Special Education Services is 11.10 percent. There are 33.64 percent of the students on Free or Reduced Priced Meals. Bull Run is part of the Centreville Pyramid.
"From what I have experienced, our families are very supportive of the education programs we have here at Bull Run and will bend over backwards to ensure that our teachers and students have what they need to be successful learners and prepared as 21st century learners," Pensler added.
As far as challenges, Pensler said: "I think the challenge of being a new principal at Bull Run is familiarizing myself with the traditions, and what makes Bull Run special — and building those relationships with our community, our teachers and our students."
For personal goals, he hopes to build relationships with the staff, students and community members as well as enhance the academic programs that are already in place at Bull Run.
What he loves most about his job, he said, is: "I'm still a teacher at heart. I get to help enhance a teacher's instructional program, which will in turn prepare our students for the global economy. I love working with parents and being able to build the future of what we want Bull Run to look like and sound like as we're educating our students."
He said the parents and the PTA play an integral part of the educational process. "I want to build that relationship with the PTA," he said. "We've gotten off to a great start and being able to hear what their vision is of Bull Run and how we can work to make that happen for our kids."
Bull Run has several business partnerships, including the Fairfax Community Church, Centreville United Methodist Church, Western Fairfax Christian Ministries, Sully Seniors, Westfield High School Mentors, and the American Association for the Advancement of Science, to name a few.
So far this year, Pensler's actually rode home on four different buses with the students. "That allows us to see where the kids live. We are able to talk to family members for a brief moment; it allows us to see a face with a name," he said.
He grew up in South Arlington then moved to Woodlawn in Mount Vernon. He graduated from Mount Vernon High School in 1992; graduated from VCU in 1996 with a bachelor's degree in sociology; and got a master's in education from GMU in 1999 with a concentration in early child education. In 2002, he received an endorsement in administrative supervision in K-12 from UVA.
While attending college, he was a special ed instructional assistant in an inclusive classroom at Oak Ridge Elementary in Arlington County. He taught second, third, and fifth grades at Parklawn Elementary in Annandale for four years. For one year, he was a gifted and talented resource specialist at four schools: Holmes Middle, Weyanoke, Fairhill, and Lemon Road Schools. Then he was part of the Lead Fairfax Learning, Empowering, Assessing and Developing program, as an administrative intern at Belvedere Elementary and at the Office of Advanced Academics. From there, he became assistant principal at Poplar Tree Elementary for five years; then assistant principal at Orange Hunt for one year, followed by Orange Hunt principal for five years, and finally the principal job at Bull Run.
"I taught in the classroom at three different levels, both primary and upper. I was a gifted and talented specialist at four different schools, and my opportunities as an administrator with all of the professional learning that I've been able to experience and partake in as an administrator has enhanced my toolbox to where I can share that knowledge by working side by side with our staff and our community," he added.
He said he's known for putting his kids first. The quote, "What's good for kids is not necessarily good for us," applies here because he says, "Our children come first no matter what we do." He added: "I am one to getting to know my students, not just academically, but their social life and sports, and sharing a little about myself. I view school as a family, as a community. We are a family here at Bull Run."
According to Rachael Blanchard, assistant principal at Bull Run, "Jason Pensler is an amazing principal because of his dedication and passion for education. This is shown through his actions whether it is riding the bus home with the students to get to know the families and community, staying late to make sure his staff has the support they need, or facilitating conversations about best practices in instruction. He understands the need for building relationships with the staff, students and community and has put that as one of his priorities starting off this school year."
Bull Run PTA President Sunny Heindrichs added: "Jason is the definition of community. He is involved. When he can, you will find him greeting the kids at the buses and walking the hallways. He is very helpful and quick to respond. Jason is thoughtful and creative. He's willing to brainstorm and think outside the box to meet the needs of students, teachers and parents. We are excited to have him at Bull Run."
Alison Jones, an instructional coach at Orange Hunt Elementary, added: "Mr. Pensler is one of the most personable, approachable, and positive leaders I have ever had the pleasure of working with in a school. He creates a warm and open school environment that fosters relationship building and collaboration. He is visible in the building and is invested in celebrating his teachers and teams."
Carrie Brown, literary specialist at Bull Run, added: "Jason Pensler makes a good principal for he always keeps our students — and the impact of our decisions on kids — as our focus. He has transitioned into our school with the mindset of building and establishing positive relationships with the staff, students, and community. He has often stated that 'we are a family' and the sense of teamwork and strong communication is apparent … He portrays the energy of one who is always learning and constantly growing in order to best support our teachers in this learning community so that we can best support our students as 21st century thinkers."
Pensler is married to wife Carmen; and the couple has two girls, Jaimilee , age 9, and Cailyn, age 7. Carmen Pensler is an international program coordinator for the USGS in Reston.