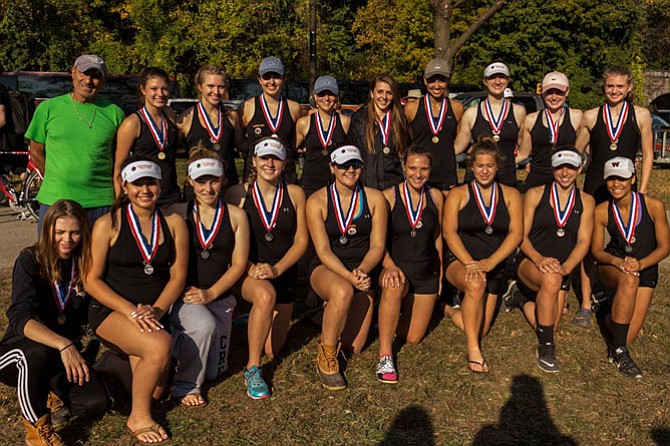 The ODBC Crew team took 11 boats to the Head of the Schuylkill Regatta (HOSR) on the Schuylkill River in Philadelphia early in the morning on Oct. 30, and brought medals and improved performances back to Alexandria at the end of the day.
The HOSR is one of the premier fall regattas, drawing teams from the both the U.S. and Europe, many of which competed the previous weekend at the Head of the Charles in Boston. Conditions at the HOSR were excellent, with sunny skies, balmy temperatures for late October, and light breezes on the 5000 meter course.
HOSR highlights for ODBC included a bronze medal winning performance with a time of 15:39.337 for the Women's First 8 crew in the 45-boat Varsity/First Boats category. Members of the ODBC First 8 include coxswain Camila Cardwell and rowers Ailysh Motsinger, Caroline Hill, Katy Murphy, Grace Asch, Grace Vannatta, Reed Kenny, Blythe Markel, and Grace Fluharty. After the race, T.C. Williams senior Reed Kenny said that the team's race at the HOSR was "by far the best of the season. We came together as a boat and medaled at the Head of the Schuylkill for the first time in a very long time. This has been a very good season for ODBC and I can't wait to see what we can do in the spring for T.C. Williams."
The ODBC Second 8 Women claimed the silver medal in the Junior Varsity/Lower Boats category with a time of 16:17.200 in a race that included 50 boats. The Women's Second 8 crew includes coxswain Paige St. John, and rowers Hope Parsons, Emma Carroll, Celia Lane, Lily Warden, Rachel Sedehi, Rachel Saez Knapp, Alexa Liquori, and Cleo Lewis.
Other ODBC highlights from Philadelphia included a strong performance by the ODBC Men's First 8, who placed 11th with a time of 13:57.099 in a highly competitive 70-boat field in the Men's Varsity/First Boats category. Racing in the Women's Varsity/First Boats category, the ODBC Lightweight Women finished in 12th place with a time of 16:11.187, the highest placement of any club's second boat in that category. In the Men's Junior Varsity/Lower Boats category, the ODBC Men's Third 8 placed 16th out of 58 boats with a time of 15:10.503. Finally, in the 30-boat Women's Frosh/Novice category, the ODBC Frosh 8 showed promise with a solid 4th place finish and a time of 17:36.  
ODBC Women's Head Coach Patrick Marquardt pronounced the day a success: "ODBC performed beautifully with near perfect race-day weather conditions."
ODBC rowers enter the last races of the season on Nov. 5-6, with the Men's and Women's First 8s and lower boats competing at the Head of the Occoquan, and Second and Third 8s travelling to Chattanooga, Tenn. for the Head of the Hooch.