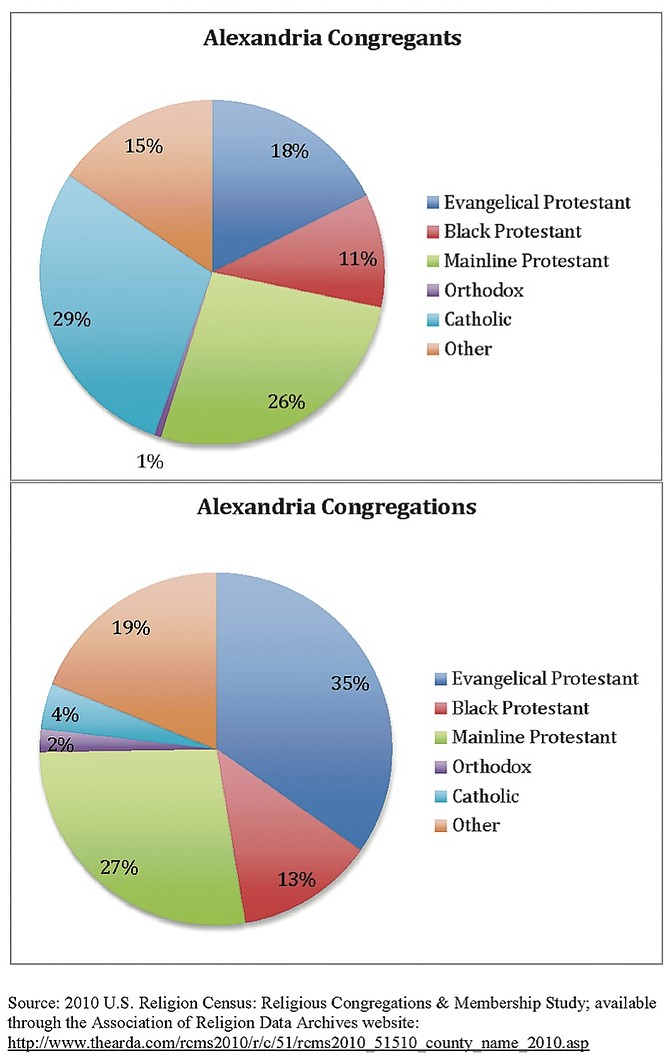 In contrast to widespread contention about religion in the public square, Alexandria's mayor and faith leaders seek a mutually constructive way forward.
Scott Maurer, pastor of West City Fellowship, an Alexandria church, believes many religious leaders nationwide feel "irrelevant," "devalued" or even "marginalized" in public culture. He says "one of several symptoms" is anxiety about religious liberty.
According to Pew Research Center, 32 percent of Christian churchgoers reported hearing their clergy speak out recently "in defense of religious liberty." Only 2 percent heard their clergy say "they don't believe it is under attack." Clergy spoke about religious liberty more than any other topic polled, including homosexuality and abortion.
But Maurer thinks the local situation is much more positive. He credits Mayor Allison Silberberg, who convened a clergy council, now in its sixth month. Maurer says the council is an affirming and welcoming "gesture." He said, "Just the symbolism of that is good."
Silberberg also reports a good experience with the clergy council. "It's very healing and very comforting," she said.
Silberberg intends the clergy council to foster collaborative relationships around shared community interests. "What we all have in common is that we all want to serve the public good."
"It takes all of us to crack big issues," said the Rev. Oran Warder of St. Paul's Episcopal Church.
The clergy council's precise function is unfolding. "My guess is that everyone comes there with a slightly different expectation of what it will become," said Maurer. He says the group must hone its purpose, though not immediately. Such an effort "takes awhile to get off the ground."
The council meets quarterly or as needed. It consists of those who show up at any given meeting. Up to 30 clergypersons met in May, July, and September. Participants describe the meetings as casual, serving to generate rapport and dialogue about community issues.
Silberberg's priorities include "food insecurity" and crisis mitigation. "It's good to come together during [a tragedy], but it would be better if the relationships are already there."
The clergy's priorities vary. The Rev. Heather VanDeventer of Christ Church suggested "issues affecting the working poor" as a theme. The clergy also focused on race. July's meeting concentrated on race, violence, and community policing.
The Rev. Taft Quincey Heatley of Shiloh Baptist Church says religious congregations can "champion" dialogue between ethnic groups.
Rabbi Brett Isserow of Beth El Hebrew Congregation agrees that the clergy council can "be a moral voice for the city." However, he says no consensus yet exists about the top issues.
Congregations already participate in community coalitions. ALIVE! serves the poor. But it does not systematically represent the clergy's perspectives to local government, says Diane Charles, its executive director.
VOICE builds relationships between clergy and public officials. But its brand of activism may not appeal to many congregations, says the Rev. David Gortner of Virginia Theological Seminary. "The clergy council will overlap other networks and may provide a way of bridging them effectively," he said.
Silberberg intends the clergy council to participate in a multi-organization initiative. When public schools close due to snow, she says religious congregations could help ensure food distribution to the 60 percent of students who are eligible for free or reduced price meals.
City officials have not yet defined the clergy council's role in city-led efforts. "The clergy council exists outside of city government," said Craig Fifer, Alexandria's director of communications. But he says it could be a valuable "sounding board or clearinghouse" for ideas.
The clergy council does not represent the faith community completely or proportionately. "I thought it was a good mix," said Maurer, "but certainly not everyone is there." The U.S. Religion Census counted 95 congregations in Alexandria, representing 46 percent of residents. Mainline and Black Protestants have turned out in the greatest numbers.
Though some congregations did not hear of the council, all are welcome. "Any congregation is absolutely invited," said Silberberg.
The clergy council is a hopeful endeavor. "It's always good for people to get to know each other, and to break down barriers, and to share ideas, and to share resources," said Silberberg.