Living Legends of Alexandria is an ongoing 501(c)(3) photo-documentary project to identify, honor and chronicle the people making current history in Alexandria. The project was conceived in 2006 to create an enduring artistic record of the people whose vision and dedication make a positive, tangible difference to the quality of life in Alexandria. For information, to volunteer, become a sponsor or nominate a future Legend, visit www.AlexandriaLegends.org or contact AlexandriaLegends@outlook.com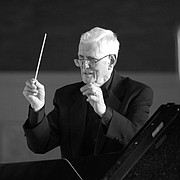 Ulysses James: In Service to Music
By Larry Ries
In his 31 years of leadership of the Washington Metropolitan Philharmonic Association (WMPA), Ulysses James has emphasized the performance of new and exciting musical compositions, supported local and emerging artists, and worked to make musical performances accessible the Alexandria community.
James graduated with honors from Brown University in 1958 with a bachelor's degree in music and was accepted for graduate study at both New England Conservatory and Indiana University. However, Uncle Sam notified him of his draft board's plans; James joined the Navy.  He served as a Regular Naval Officer for 20 years, retiring as a Commander in 1979 after 13 Vietnam campaigns and with five Commendation Medals.
James resumed his music studies in cello and conducting, and soon took the podium at two small community-based ensembles practicing and performing near Alexandria. The new conductor grew the ensembles into metropolitan-wide symphonic orchestras while keeping their community service and participation roots.
In May 2011 James passed the baton for the Youth Orchestra to Dr. Henry Sgrecci, remaining music director of Washington Metropolitan Philharmonic Association and conductor of Washington Metropolitan Philharmonic (WMPA). 
Ulysses James' vision and leadership has guided WMPA's five year-round programs, which include the WMP "Philharmonic" of auditioned professional, semi-professional and amateur adult musicians performing five concerts in Alexandria and five concerts in Washington, D.C. annually; the 45-50 member Washington Metropolitan Youth Orchestra for talented high school youth, giving five concerts per year; the 40-45 member Washington Metropolitan Concert Orchestra for young musicians in grades six to nine, which performs three to four concerts per year; the WMPA Summer Chamber Concerts Series which annually offers 14-16 free concerts at Alexandria's Lyceum; and the yearly WMPA Composition Competition for new and emerging East Coast composers.
Hundreds of musicians of all ages have had opportunities to display and improve their musical talents with James' leadership. His musical brilliance, wise guidance, and deep passion for music education have inspired youth and adults as orchestral musicians and sensitive audience members. In 31 years, except for one many years ago, James has never accepted a salary.
James's passion for the arts is mirrored in civic service. A member of the Alexandria Arts Forum since its founding in 1991, he served as president from 2010 to 2013, strengthening partnerships with Visit Alexandria, (formerly the Alexandria Convention and Visitors Association), and the Alexandria Commission for the Arts. In 2012 he received the prestigious Alex Arts Award from the Alexandria's City Council for exceptional contributions to the arts in Alexandria.
Known for his compassionate leadership skills, James is quick to deflect the spotlight from himself, preferring to praise, encourage and mentor those around him.
In James' own words: "I want to build an audience that looks forward to exploring new music along with the gems of the past. I want to support the musical art of the recent past and the present through performance, and to encourage the creation of music for the future. I also want to build an orchestra that is the finest 'community orchestra' in the region, and do it in a way that nurtures and respects every musician and patron who participates in our efforts."
Alexandria and its arts community will be, for years to come, the beneficiaries of Ul James' many years of exemplary leadership and service.
Wanda Dowell: Interpreting History with Integrity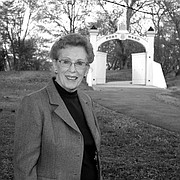 By Jeanne Theismann
For nearly four decades, Wanda Dowell was a fixture at Fort Ward Museum. In 1965, she filled out an application to work for the City of Alexandria.
"I wrote on the application that I was interested in Civil War history," Dowell recalled. "That got the attention of Col. Joseph Mitchell, who was director of the newly formed Fort Ward Museum. Not only did Col. Mitchell hire me, he encouraged me to succeed in a field that at the time was dominated by men."
Fort Ward, a former Union Army installation located in the West End of Alexandria, was the fifth largest fort built to defend Washington, D.C. during the Civil War. It is now called the Flagship of the Defenses of Washington and one of the best preserved and interpreted.
"When I first started, nothing was catalogued," Dowell said. "I began doing an inventory and through classes at the Smithsonian, I learned all I could about how to do exhibits and manage collections for small museums."
Dowell's efforts were rewarded in 1981with appointments as director of Fort Ward Museum and Historic Site and as a board representative for the Northern Virginia Region for Virginia Civil War Trails. It was under Dowell's tutelage that the museum received accreditation from the American Association of Museums.
"We were one of the first museums in Alexandria to become accredited," Dowell said. "We are also on the National Register of Historic Places and have won state and national awards for our history education programs. Fort Ward is also one of the reasons Alexandria received its first All-American City Award."
Dowell was instrumental in obtaining signage identifying Civil War fort sites that once surrounded Alexandria. Later she collaborated with other city sites in creating an Emergency Disaster Plan for Historic Properties. On 9/11, Dowell kept the museum open to aid anyone in need of help. She developed a conservation plan for the earthwork fort, one of the first such initiatives developed for earthwork fortifications, and was invited to lecture on the topic at an American Association of Museums national conference. She has lectured on small museum management topics for the Virginia Association of Museums and The Smithsonian.
She has been recognized nationally for her preservation and restoration efforts, and her numerous awards include the James R. Short Award from the Southeastern Museums Conference for "distinguished lifetime service to the museum profession." She used her expertise in education and fundraising to develop symposia, historical camp events, programs for children, educational programs and special events. Although she retired in 2002, Dowell remains a member of the Friends of Fort Ward and after retirement served as an officer for the Civil War Roundtable of Alexandria.
"Fort Ward is a unique museum," Dowell said. "It is one of the best teaching tools that we have and gives the public a whole new perspective on what happened here. We have a responsibility to see that it is preserved and I am proud that Alexandria interprets our history — the good, the bad and the ugly — with integrity. Just because you are a small museum, there is no reason you can't be a quality museum."
The 85-year-old Dowell continues to serve the community through the First Baptist Church of Alexandria. She delivers Meals on Wheels, volunteers at The Clothing Closet (providing serviceable clothing to people in need), and sings with the Jubilee Singers. She has participated in mission trips to Cayman Brac and is a volunteer exercise instructor for seniors.