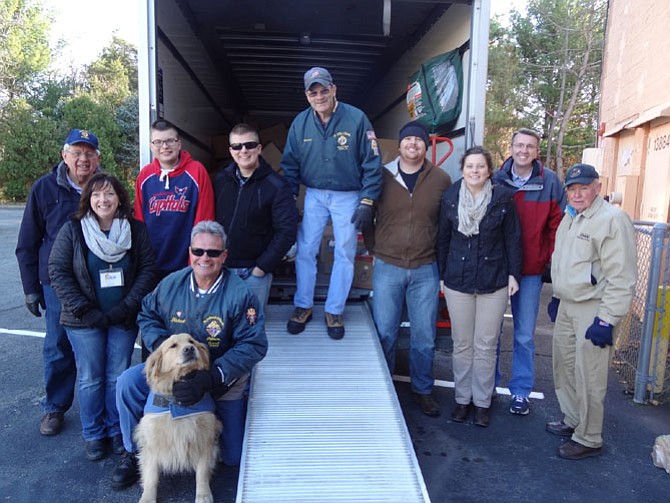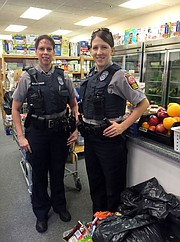 "It's my goal that every family requesting holiday food in WFCM's service area be served, either through sponsorship of a food basket or a grocery store gift card."
 — Jennie Bush, WFCM Community Outreach Manager
Christmas dinner is always a highlight of the holiday season. But for people who are hungry and have little or no food in their kitchen, it can be devastating. And that's where Western Fairfax Christian Ministries' (WFCM) Holiday Food Program comes in.
This year, it expects to supply holiday food for more than 1,600 local families in need. But it can't do it alone; it needs the community to pitch in, too, by either donating gift cards to grocery stores or providing gift baskets of food.
"Even though Northern Virginia is considered one of the wealthiest jurisdictions in the country, over 64,000 men, women and children in Fairfax County live in poverty," said WFCM Community Outreach Manager Jennie Bush. "One in four children attending Fairfax County Public Schools is on the free- and reduced-lunch program — that's over 52,000 school children for the school year 2015-16."
In some schools here, she said, half of all students qualify. "Many children are hungry during the weekends and over holiday breaks," said Bush. "Nearly 76,000 county residents are food-insecure, meaning they don't know where their next meal is coming from."
So she's hoping local residents, businesses and other groups will join the organization's "Neighbors Helping Neighbors Holiday Food Program." Student groups, book clubs, civic associations, etc., are all encouraged to lend a hand.
WFCM serves those in need in Centreville, Chantilly, Clifton, Fair Oaks and Fairfax Station. And with so many people struggling financially, more and more families are coming to WFCM for help. Bush manages this nonprofit's food program, so she sees the poverty in western Fairfax County firsthand.
"It's my goal that every family requesting holiday food in WFCM's service area be served, either through sponsorship of a food basket or a grocery store gift card," she said. "But to do that, we need a tremendous amount of support."
She's already reached out to community organizations and churches for help. "This year, we've been blessed to have the Sully District Police Station and the Westfields Marriott hold food drives and assemble food boxes," said Bush. "And then they'll deliver them to the families they've sponsored for Thanksgiving or Christmas."
The Clifton Lions Club raises money to sponsor families with grocery store gift cards for both holidays. "We also have tremendous support from the Knights of Columbus, St. Andrew the Apostle Catholic Church and St. Clare of Assisi Catholic Church," said Bush. "Together, they donate over 100 turkeys and boxes of food to WFCM, which enables us to have our Thanksgiving distribution from our food pantry."
Some of the SYA travel soccer teams will also make bins to sponsor larger families in need. And, said Bush, doing so "helps these young people understand the huge need in our community and provide them a hands-on way to help others." In addition, she said, "We're especially grateful for our many supporting churches which sponsor hundreds of families for Thanksgiving and Christmas. They are the backbone of this program."
All recipient families and individuals have been pre-screened for eligibility. "If there are children in the family, all of them already qualify to receive free lunches at school," said Bush. "If a family doesn't have children, they've had to provide sufficient proof of income to document that their need is real and then be referred to the program by a social worker."
Flooded with requests for food, WFCM has a big need for gift cards to serve single individuals, the elderly and small families who either don't want or are unable to eat a large turkey with trimmings, all by themselves. So donations of gift cards to local grocery stores for $25 and $50 to give to these people would be particularly welcome.
For those wanting to sponsor a family with a food basket, Bush will match them up with a recipient. She'll give them a list of suggested items to include, and they'd then shop for the items for a holiday meal and put together the basket(s) or food boxes, themselves. Then the sponsors will deliver the food and turkey (or other meat) to the recipient families.
To sponsor a family or families for holiday food, contact Bush at jbush@wfcmva.org. Go to www.wfcmva.org to obtain a list of suggested items to include in the food baskets. Grocery store gift cards for Christmas food assistance will be accepted through Dec. 20. 
Gift cards may be dropped off at the WFCM food pantry at 4511 Daly Drive, Suite J, in Chantilly, Monday through Friday, between 9 a.m. and 2 p.m. (No cash donations). Or mail them with a note saying "Holiday Food Program" to: WFCM, P.O. Box 220802, Chantilly, VA 20153.
"WFCM's Holiday Food Program gives our community a unique opportunity to help others truly in need," said Bush. "It elevates an act of generosity into a blessing for all involved."