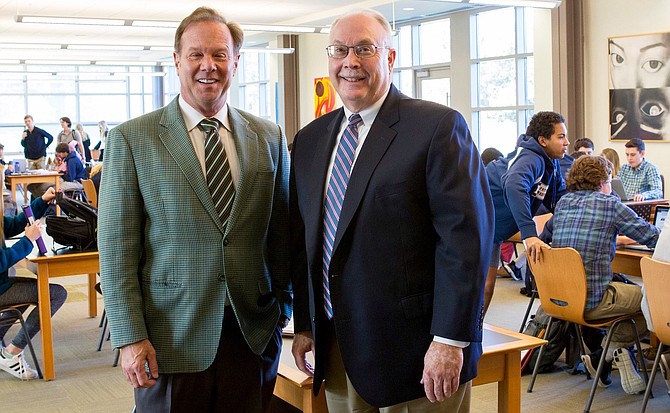 McLean — The Potomac School's current debate coach and a former coach were recognized for their work during the Holy Cross School (New Orleans) Invitational Tournament, which ran from Sept. 29 to Oct. 2.

Potomac Speech and Debate Coach Harry Strong received the Brother Melchior Polowy, C.S.C. Excellence in Coaching Award. Strong, who joined the Potomac community this July, previously served as director of forensics at Battle Ground Academy in Tennessee. At the tournament, he was recognized for his students' consistent performance over the years at the nation's highest level in speech and debate. In 2014, when he was a faculty member at Roosevelt High School in Des Moines, Iowa, Strong was named National Speech and Debate Coach of the Year by the National Speech & Debate Association..
Now, as a faculty member in Potomac's Upper School, Strong teaches a course titled "Speech that Matters," and coaches the school's competitive interscholastic speech and debate team, which competes in both the Extemporaneous Speaking and Public Forum categories. In addition, as director of K-12 public speaking, he will work with faculty in all grades to develop opportunities to strengthen students' skills in public speaking.

Tom Rollins, a Potomac parent who served as the school's speech and debate coach from 2006 to 2009 and has continued to assist the team in a volunteer capacity, was honored for his leadership and commitment to developing Worlds School Debating in the United States. In this international style of debate, students must develop a logical, persuasive argument without heavy use of evidence. During Rollins' time as Potomac's coach, the school won two Virginia State Championships and secured 5th place at the National Tournament. Rollins also worked to create Team USA Debate, the high school Olympic debate team that is designed to field the best possible American team in international competitions. As a student at Georgetown University in the 1970s, Rollins was named Debater of the Decade through a survey of collegiate debate coaches and participants.
Potomac Head of School John Kowalik says, "We congratulate these two outstanding coaches on their most recent well-deserved honors." He continues, "We are happy to have Harry as a member of our faculty; I am confident that his expertise will be a tremendous asset for both our speech and debate team and our K-12 focus on public speaking. Tom's accomplishments are truly impressive, and we are grateful for all that he has done to strengthen Potomac's speech and debate program over the years."