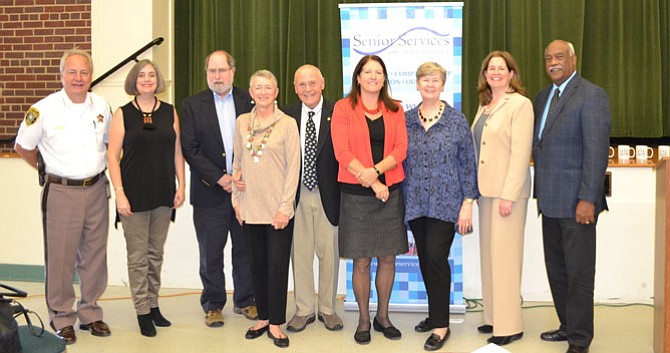 Senior Services of Alexandria honored individuals who have made a significant contribution to various SSA programs at its annual Volunteer Appreciation luncheon Nov. 3 at the Durant Arts Center.
Volunteers of the Year for each program include: Meals on Wheels – Bobbie and Patrick O'Brien; Friendly Visitor – Alexandra Johnson; Groceries to Go – Carolyn Cain; and Education and Outreach – Steve Cordle. Meals On Wheels volunteer coordinator Dolores Viehman was presented with the Superstar award from Director of Community Outreach MaryAnne Beatty.
Mayor Allison Silberberg and Sheriff Dana Lawhorne were on hand to congratulate the honorees and lunch was provided by Jeffery's Catering with desserts from Giant Food on Duke Street.
For more information about SSA services and programs, call 703- 836-4414 or visit www.seniorservicesalex.org.