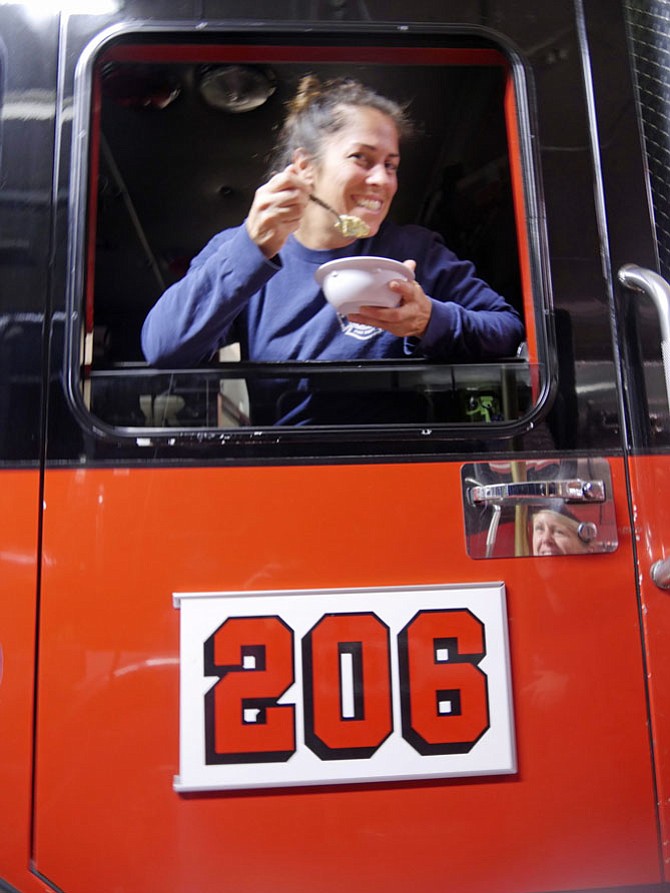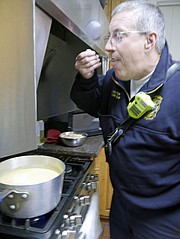 Ever wonder what firefighters on 24-hour duty eat for dinner? It turns out that there are a number of gourmet cooks among the 10 fire stations in the City of Alexandria. The Alexandria Gazette Packet in conjunction with the city Fire Department recently held a contest for the best chef to be featured in its monthly "In the Kitchen" column. Fire stations were asked to nominate their best cook. On Oct. 26 the finalists from each station were chosen including: Arash Hematti and Kristina Holt from Station 206, Mike Lyons and Kevin Black from Station 210, Randal Parker from Station 203 and Tiffany Matthews and Francisco Castaneda from Station 204. Stations were given until Monday, Nov. 7 to complete their survey to allow all shifts to participate.
The winner is Kristina Holt who chose chicken corn chowder as her featured meal. At 5 p.m. she has prepped the white onions, the carrots and sweet red pepper and pulsed garlic with olive oil in her small food chopper. She aims for dinner at about six. Holt said, "We are a very busy station so we try to get as much ready as we can in case we get a call in the middle of dinner or when we are cooking." As a result there are a lot of crock-pot meals or easy casseroles. But she says at holidays they cook something special like beef tenderloin, mussels, lobsters. "This recipe is my mother's except I have changed it from the canned cream of .... soup and added the vegetables all fresh."
Holt has picked apart a whole roasted chicken and will add it at the end. She sautés the vegetables in a large pot with a little butter and olive oil for about 10 minutes. "I don't usually use butter and never when I'm cooking at home." Then she shakes flour out of the sack, "maybe a little less than a cup, to make a roux. Next I pour in an 18-ounce box of low-sodium chicken broth. I may need more than this box. I don't measure anything; I just eyeball it."
She peers into the pot as she stirs to check the thickening. In go two bay leaves, a little bit of cumin (she doesn't like too much) a little cayenne, white pepper, salt and some Old Bay Seasoning. "I started using it because a coworker loves it. At the end I will taste to see whether I need to add more because of the jalapeno pepper that I added this time that will make it a little spicy."
The heat is turned down to low so the veggies cook until they are just a little soft. "It will be a creamy white color, but I always add too many carrots and it is an orange color now."
The soup is thickening. She adds the carton of heavy cream and continues stirring. The chowder is almost finished so she adds the two packages of frozen white sweet corn. Tonight she has supplemented the chowder with crescent rolls which will make a hearty meal. The garlic goes in at the very end so it will retain the flavor and then finally the chicken.
Battalion Chief Mark Dalton pops through the kitchen door. "This is his favorite," she said. "Chief, here's a spoon. Come and taste." She decides it needs something. "What do you think?" Holt decides to add a sprinkle more of salt. "I'll probably add some more Old Bay. It would be really good to have this chowder with crabmeat but we can't afford to buy it."
The medic unit is just coming back from a call. "The West End is always busy. One day last week we had three cardiac arrests on one day."
She says because they are located close to the interstate there are a lot of calls and they are also at the border of Arlington and Alexandria so get a lot of requests for mutual aid. Holt adds they are up most nights 3-4 times and have to learn to sleep when they can. Currently they are also training to be a tech response company. "We have to be able to go to car extractions, building collapses, trench response, rope rescue."
It has been just about an hour, and the chowder is ready. Holt calls into the speaker, "Dinner — get it now. Come on." Tonight she has set out seven bowls. Firefighters grab a bowl and head to the stove to ladle out a portion and grab a roll. Holt says everyone puts in $10 each day to cover lunch and dinner. Dalton says that some of the stations have good cooks and good shoppers while some have bad cooks and shoppers and some have excellent cooks who blow the budget." Holt estimates she spent about $30 on the ingredients for the chowder.
Holt said she started cooking when she was a child and she and her brother made a lot of their meals. She started working in a restaurant when she was 14 years old and then worked in a number of different restaurants where she picked up her skills. "And I'm a picky eater but my taste buds have expanded."
She has been a firefighter for 10 years and just recently moved from ladder trucks to engines where she rides on the left side in back. She says she grew up with firefighters; her neighbor was the chief. Holt said, "I like this job — being out in the community."