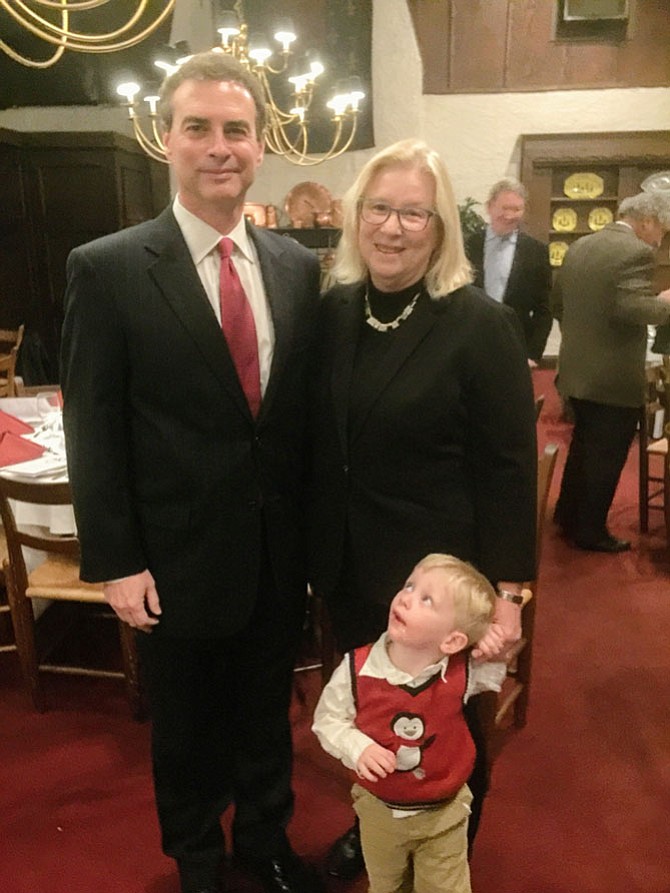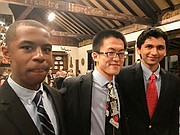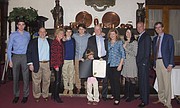 The Potomac Chamber of Commerce paid tribute to three honorees at its awards dinner at Normandie Farm on Nov. 17.
The evening of praise and proclamations honored Mary Kimm, editor and publisher of the Potomac Almanac and Connection Newspapers, as Citizen of the Year; Attorney Fred B. Goldman, Esq., as Business Person of the Year; and Landon student Arslon Humayun as Youth of the Year.
Kimm is an award-winning journalist, opinion writer and editor and publisher, managing through the changes in media for more than 25 years. As editor and publisher of Connection Newspapers, parent of the Potomac Almanac, she has led the newspaper group to hundreds of press awards for investigative reporting, public service, editorial writing, news and election coverage, special projects, feature writing, sports, design, photography and more. Kimm has worked at the newspaper chain in a variety of roles since 1989. Kimm serves on the governing board of the Fairfax-Falls Church Partnership to Prevent and End Homelessness and on the board of directors of the Boys and Girls Clubs of Greater Washington Fairfax Region. She also serves in numerous community organizations, including the Potomac Chamber of Commerce.
Goldman has lived in Montgomery County since 1963 and in Potomac since 1971. He has served as a member, officer and director of the Potomac Chamber of Commerce for over 25 years. He has also delivered welcome baskets for the Chamber for many years and served as chairman of the Chamber Awards Committee for the past eight years.
Goldman was born and raised in D.C. and graduated from George Washington University and the Georgetown University Law Center. After working for Price Waterhouse as a CPA and The Macke Company as director of taxes, he opened his own law practice concentrating on business and tax law and estate planning and administration.
Goldman has volunteered in many capacities over the years. He served on the board of directors and as general counsel of the Washington Hebrew Congregation. Having been active in his youth, he was asked to help establish a tax exempt foundation, Friends of BBYO, to raise money for the D.C. area chapters of the B'nai B'rith Youth Organization (BBYO) when the parent corporation had to cut funding. His involvement included establishing annual galas that raised substantial contributions for the D.C. region chapters of BBYO.
Humayun, a senior at the Landon School, has lived in Potomac his entire life and enjoys the diverse and active intellectual culture. He has had the opportunity to celebrate religious and cultural festivals with his friends of many different traditions and to learn from both business leaders and entrepreneurs.
He earned the highest grade point average in the junior class at Landon. He is a member of the Chamber Singers and the Landon soccer team. He serves as a "prefect" — an on-campus ethical leader who was chosen by the Upper School students and faculty members. He co-founded the Peer Tutoring Club and is also a leader of the Peer Counseling Club. He is a member of the Multicultural Student Alliance and president of Landon's Eastern Cultural Association which encourages discussion of issues affecting Asian-American and Indian-American boys.
He won the Noah Eig Award for Fellowship for his role in promoting an atmosphere of brotherhood and acceptance at Landon. He was also awarded the Lower School Headmaster's Award in 2010 and the Middle School Headmaster's Award in 2013. In 2016 Arslon received the Dartmouth Book Award.