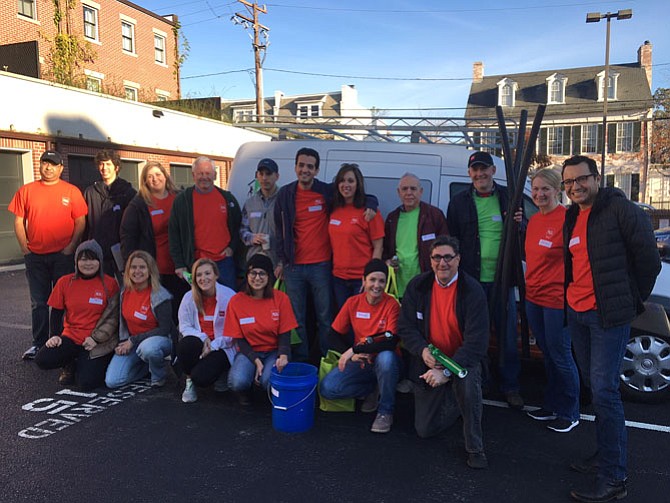 As the days get shorter and the nights cooler, you probably will turn on your heating system or add an extra blanket to your bed to stay warm. But many neighbors, especially low-income homeowners, struggle to pay high heating and energy bills during the colder months, as they need to use their limited income to pay for other necessities, such as food and medicine. Where do they turn when their heating system does not work or they are unable to keep the cold drafts at bay? Here at Rebuilding Together Alexandria, we are working hard to help your vulnerable neighbors prepare their homes for the winter.
Recently, 40 volunteers spent a Saturday morning weatherizing and making energy efficient repairs to 20 homes in Alexandria owned by low-income residents. Sponsored by PGAL, their employees joined volunteers from Westminster Presbyterian and a handful of other dedicated people, all armed with weather-stripping, window plastic, compact fluorescent light bulbs, caulk, outlet insulators, foam tube insulation for hot water pipes, and tools to carry out these modifications. These upgrades will help homeowners save on energy costs in the coming months, keeping the cold air out and the warm air in. Neighbors helping neighbors is what this was all about.
During this time of year, low-income homeowners contact us for emergency repairs as well, and in the last few weeks alone, we have repaired or replaced several heating systems and hot water heaters. To facilitate these emergency situations, Andrea Viñas, Rebuilding Together Alexandria's program manager, deals directly with each homeowner, previews every home, and tracks each repair needed. She recently received a call from one of our homeowners, Mrs. N., an 87-year-old widowed woman who lives alone. She has mobility and hearing issues and has suffered from a stroke. She relies on the kindness of her neighbors and even the fire department knows her address by heart. After recently being discharged from the hospital and being able to come home with home care assistance, her hot water heater began leaking. After receiving a quote from a contractor, Mrs. N. knew she would not be able to afford the estimated $800 repair. Andrea was quickly on top of it. During the call, Mrs. N. exclaimed, "I've never seen anything done so fast! They just came to look at it the other day and told me that it [water heater] could not be repaired. Then later a truck came to bring a new one."
Do you have a neighbor like Mrs. N. who could benefit from our free home repair services? We encourage you to introduce them to us. For more information, call 703-836-1021 or visit www.RebuildingTogetherAlex.org.