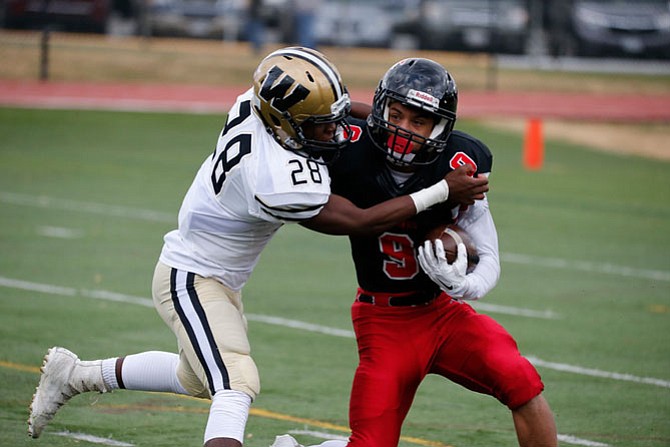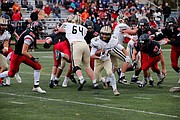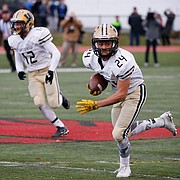 On Saturday, Nov. 26 the Westfield Bulldogs (10-2) traveled to Norman F. Bradford Stadium to face the Madison Warhawks (11-1) in the quarterfinals of the 6A North playoffs. Westfield advanced to the game after wins over W. T. Woodson and South County, while Madison defeated Washington-Lee and West Potomac.
After a 83-yard run by Landan Thomas put Madison in the red zone, Warhawk QB Jacob Choutka opened scoring with a 1 yard run with 7:46 left in the 1st quarter. After a David Louden point after, Madison was up 7-0.
On the ensuing kickoff, Westfield's Sean Eckert took the kick from the Westfield 18 and blasted by the special teams of Madison for a 82-yard score. Following a Brian Delaney extra point, the score was knotted up at 7, with 7:34 to play in the opening quarter. Later in the 1st quarter Westfield QB Rehman Johnson connected with Matt Cirillo for a 9-yard TD. Delaney again was successful on the point after and Westfield took the lead 14-7.
In the 2nd quarter Madison continued to to battle as they had all season. Landan Thomas ran in from 9 yards out to pull Madison within one, 14-13. Madison would have the extra point blocked by Westfield's Eric Schweiger.
In the 3rd quarter after both teams were unsuccessful with their first possession of the second half, Madison QB Choutka would hit Landan Thomas for a 6-yard gain. On second down Choutka dropped back to pass and was intercepted by Westfield's Saadiq Hinton who returned it 55 yards for a pick 6 with 7:03 to play in the 3rd. Following a Delaney point after, Westfield increased the lead to 21-13.
In the 4th quarter, Sean Eckert scored his second TD of the game on a 70-yard TD pass from QB Rehman Johnson. Again Delaney was successful on the point after and Westfield led 28-13, with 9:59 to play in the game. Almost four minutes later, Westfield's Brian Delaney added a 27-yard field goal and Westfield would finish the Warhawks off 31-13.
Westfield was led by Eckert's two catches for 88 yards and Matt Cirillo's two receptions for 16 yards and a TD. Landan Thomas rushed for 140 yards and a TD on 21 carries. Westfield QB Rehman Johnson went 10-19 for 155 yards two TDs and one interception, while Madison's Choutka went 17-35 for 156 yards and two interceptions.
With the win, Westfield (11-2) advances to their second consecutive regional final and will host South Lakes (12-1) on Dec. 3 at 2 p.m. South Lakes defeated Lake Braddock the region's #1 seed 40-22. Madison ends its season at 11-2 with losses coming from Westfield and South Lakes.
Madison coach Lenny Schultz was happy for his seniors and praised them "for buying into the program." Schultz added, "Westfield's pretty good, their front seven did a great job, they shut us down in the second half."
Westfield coach Kyle Simmons said, "We need to establish a run game. Not something we have had much success with, but we have some ideas to help us out."