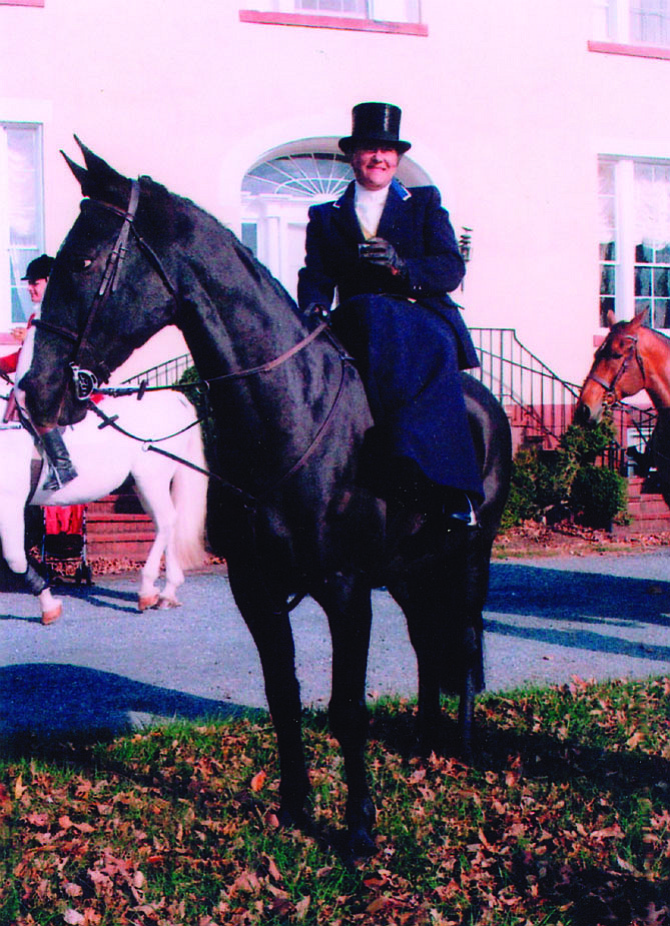 It was a time for teasing at the annual Thanksgiving Day Potomac Hunt meet at the Kiplinger's historic "Montevideo" on River Road. First, it was to cancel or not, due to a rainy weather forecast.
"We just didn't know," said "Skip" Crawford, jt.MFH. Finally, at 7 a.m., members who were advised the previous day to "call the club's monitor," learned it was a "go." The few rain drops at the Hunt Club's Peach Tree Road location had soon disappeared.
It's not a case that fox hunters are concerned about a little rain. The concern is what the hooves of 50 or more horses would do, not only to the Kiplinger property, but to neighboring farms where a fox would love to coax the hounds into a good chase across the fields.
Teasing continued when a warm ray of sun peeked out from a cloudy sky causing many hill toppers (those who come to see the hunt off and follow on foot, or in cars where possible) to temporarily remove their coats.
As the lovely pack of Potomac's foxhounds gathered around huntsman Brian Kiely, Crawford introduced Robert Hanson, a Potomac Hunt member since 1931. Hanson read the prayer, written by him and his son, Tim, asking for blessings on all: horses, hounds, riders "and the farmers on whose lands the hunt rides."
Following the blessing and a few words of welcome from the host, Knight
Kiplinger, and from Vicki Crawford, jt.MFH, grounded with a knee injury caused from tripping over a big picnic bag she had left on her kitchen floor (the message here, bag it!) "Skip" Crawford, surrounded by the pack of lemon and white American foxhounds and huntsman Kiely, emphasized, "Well, I guess it's time to go."
Huntsman Kiely was as anxious as the hounds were to get things underway and it was a lovely sight to see the entire pack move on with him out into the Kiplinger's fields and "over the meadows and through the woods," but, not to grandmother's place. There was no "grandmother" out there and apparently all the foxes were busy eating turkey.
A very few hours after the Meet, Crawford was back at home, his horse unsaddled. "There was just no scent," he said. The ground, from an unusual lack of rain, was apparently so dry, the horses feet kicked up a lot of dust. Scenting was almost impossible. The huntsman took the pack through fields and woods to no avail.
At least, it was a nice, cool day for a ride, prior to Potomac foxhunters heading back to their trailers and a Thanksgiving dinner at home.
REMINISCING
Knight Kiplinger, who inherited the family home where he grew up, talked with friends who remained a while after the hunters and hounds were gone. He indicated how much the Thanksgiving Day Meet meant to his late father, Austin, who died at age 97 a year ago, just before the 2015 Meet.
"Kip", as he was known to a multitude of friends, "rode until his mid-80's," his son mentioned.
"Dad had nine lives," he said, recalling the time his dad was riding a "green" (young) horse he was trying out for fox hunting. "When hounds came out of the woods, the horse spooked, throwing Dad on the ground and then inadvertently stepped on him repeatedly. He was taken to an intensive care unit, at a hospital, where he stayed for a week. His jaw was broken in two places and they wired it together. He never hunted after that but rode casually until his mid-80's, Knight said.
Another reluctant to leave, was Rex Reed, who, with his two children, Liam,11, and Clare, 6, extended their stay as long as possible before he confessed he'd better get home. "I have a turkey to fry," he said. It was known that wife, Denise, was home cooking.
Most unusual was the information Rex shared concerning a 1957 Allis Chalmers tractor he has.
"I put it on Facebook last night. I checked this morning and nine people are coming to see it. Two wanted to come this morning," he said. No way. Not with that turkey he wanted to fry.
Also reluctant to leave, Bob Hanson, always prepared with a joke to tell, had one he shared concerning gold earrings. Teasing, (here we go again) he asked, "Do you know what those big golden earrings that pirates wear cost? "Buccaneer," he said, answering his own question. Not to be outwitted, and besides it was time for all to leave for home, another reply was offered, "Why not buck-an-ear?"
Turkey was calling.