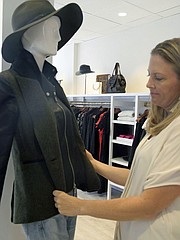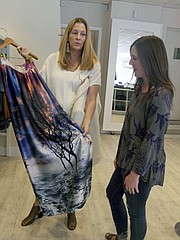 Elizabeth Todd picks up the phone. "Hey, we just got in this great Veronica Beard classic jacket with a zip-in dickey — just your style. Do you want me to hold it for you?" Todd says she has a loyal client base and she calls to let them know what has just arrived. "I get to know who needs comfortable shoes to walk in on the Hill."
Todd has just opened the Hive, described as a luxury lifestyle and clothing boutique, at 301 Cameron St.
Todd said they leased the space in July and had a very quick turnaround with lots of steps to be finished in a few months. "We completely gutted the space from a former barber shop, put in all new electrical and things like required water fountains. I had to hire an architect to go through with the city all of the requirements for an occupancy change."
This store follows on the heels of The Shoe Hive, just a couple of blocks away at 127 S. Fairfax St. Todd says she opened The Shoe Hive 13 years ago. Todd said she started to carry some clothing in the shoe boutique three years ago and it started to do well. "People would buy the Rag and Bone shoes and then ask 'where are the clothes?'"
Todd says she loves being in retail. "I thought there was a void in the market in Alexandria for shoes." Todd had been involved in politics in Ohio where she ran a direct mail firm for 10 years. "I travelled a lot to state capitals and I saw all these great shoe stores. When I moved here, I thought why don't we have one?" She said she enrolled in 10,000 small businesses, a three-month small boot camp, to help figure out the next best step. After establishing a successful shoe boutique, in a few years it was time to expand. "I thought I might open up more shoe stores in different locations. But I know the customer base here and there is a resurgence of women's fashion in Old Town." So she made the decision to branch out by opening a clothing boutique just down the way.
A row of hats is displayed above the racks of One Grey Day, an LA knitware-focused brand, and Alicia Adams Alpaca capes made in New York. "Alexandria is a place where a lot of people walk around and they wear hats to protect their face from the weather or some wear a hat for fashion. I wear a hat when I walk my kids to school. I sell a lot of hats." Todd says that she selects clothing brands "that I selfishly want and had followed for years. I try to have stuff that I know people are looking for but also a mix of unique selections that people can't get other places and with a range of prices."
Todd says she thinks people more and more want to buy investment pieces. They will spend more money to get something well made that will last and hold up over time. As the door opens, a cheerful voice rings out, "Hello, I just stopped in to check out your new place." The customer is wearing her Wolford stockings from the Shoe Hive. "They feel so good. They are worth the $50 they cost." Todd says that 80 percent of her customers are local.
She looks at her watch. "Almost time for my kids to be dropped off from school. Then I'm a mom until they go to bed." Later at night it's back to work on the Alexandria Stylebook, a daily on-line email created by Todd and sponsored by four stores.
And the paperwork.
"Honestly I could do paperwork all day long." Todd says there is no "normal day" since one day she could be busy with customers or there could be a lot of merchandise coming with a day of manual labor unpacking vendors, and there is always plenty of marketing. She could be in New York where she finds most of the items she sells in the boutique. "I spend a lot of time on Amtrak."
But what she loves best is being in the shop with customers. "I enjoy it just as much as the beginning." The Hive will have its grand opening Friday, Oct. 7-Sunday, Oct. 9. Events tumble through Friday and Saturday including demonstrations, a book signing, juice and bubbly, coffee and donuts, chocolates and cocktails with face painting and glitter tattoos for the children.