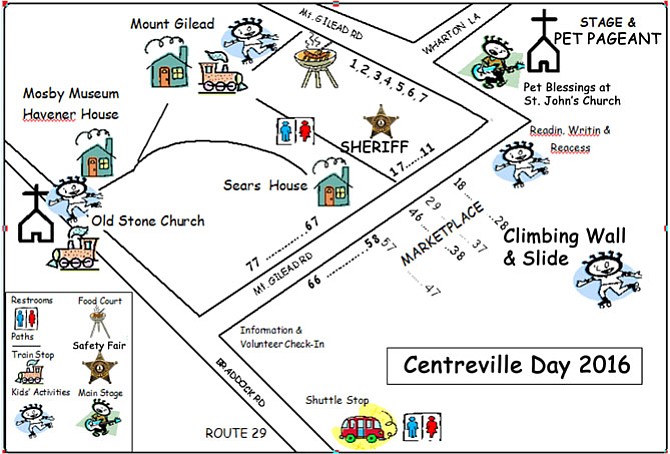 It's time for sweaters, autumn leaves, pumpkin-spice lattes — and Centreville Day. This year's event, the 24th annual, will be Saturday, Oct. 15, from 10 a.m.-5 p.m., in Historic Centreville Park, 5714 Mount Gilead Road (off Braddock Road, across Route 29 from the IHOP).
With the theme, "Celebrating Centreville Community," it features everything from a parade to a pet pageant, music, dancing, children's activities, food and crafts. Admission is free, and free parking and shuttles will be available at The Trinity Centre, 5860 Trinity Parkway, off Route 29.
"With day-to-day life being so hectic for most people, it's often hard to step back and recognize what a great place Centreville is," said event organizer Cheryl Repetti, president of the Historic Centreville Society. "From its earliest settlement in the 1760s, to the dynamic and culturally diverse community we know today, Centreville has a long and interesting history celebrated each Centreville Day in the very places where that history happened."
The festivities begin at 10 a.m. with opening ceremonies at the main stage near St. John's Episcopal Church. Cub Run Elementary students will sing the National Anthem, and Supervisor Kathy Smith (D-Sully) will welcome the crowd and present the Centreville Day Citizen of the Year award.
Parade
The Centreville Day Parade is always colorful and exciting, and this year's event should be no exception. American Legion Post 1995 organizes it, and the participants will include fire engines from Station 17, Boy Scouts, Girl Scouts, members of the Fairfax County Sheriff's Office and more. Anyone can join in the fun — even children with decorated bikes and scooters, and costumes are encouraged.
The parade will start assembling at the end of Wharton Lane near Wharton Park Court at 10:30 a.m. It'll kick off at Wharton Lane at 11 a.m., passing the stage shortly before noon and continuing along Mt. Gilead Road to Braddock Road. Residents living north of Wharton Lane will notice brief, rolling, road closures as the parade passes by.
Prizes of $50 will be awarded to the Most Enthusiastic and Most Patriotic groups. Advance registration is appreciated for planning purposes or to be considered in the parade judging; go to www.CentrevilleDay.org. Any questions may be directed to parade coordinator Steve Hunter at geoshunter@gmail.com.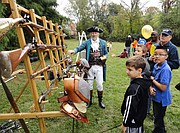 Children's Activities
"Centreville Day is an amazing day for children," said Repetti. "Get your money's worth from your Halloween costumes. Children can go trick-or-treating through the community marketplace while their parents browse the booths of crafters, local businesses, churches and nonprofits."
Also planned are a slew of free activities, including a climbing wall, slide and History Train rides. And in the Readin,' Writin' and Recess area on Mt. Gilead Road, the women of Alpha Delta Kappa will host face-painting, tug-of-war and sack races.
Children can also enjoy hands-on history at Mount Gilead, which was built as a tavern in 1785. It's one of the oldest, surviving buildings in Centreville, dating back to the original crossroads village of Newgate, and it'll be open for guided tours. Outside on the lawn, Sully Historic Site volunteers will help children dip candles, write with a quill pen and make simple toys to take home.
Also on the lawn will be the Swordsmen of the 18th Century. Long-time Centreville residents Charlie and John Anderson will demonstrate their swashbuckling skills and share their extensive knowledge with the crowd. Meanwhile, attendees may also find another group of living historians, Pirates for Sail, also camped on Mount Gilead's lawn. (Centreville was once home to a pirate; see sidebar on Mrs. Spindle and Captain Ralls.)
Entertainment
Master of Ceremonies is Westfield High theater student Nathan Marshak, who'll host mainly local talent at the main stage. At 10:45 a.m., Pirates for Sail — described by Repetti as "A group of hearty, singing privateers sailing out of Baltimore with a treasure of song" — will begin the day's entertainment. Following at noon will be a local favorite, the Va Deatles, comprised of teachers mostly from Stone Middle School — Joanna Vadala, Liz Meyer, John Lorusso and Robert Zazzara — who'll cover songs of the Beatles and other rock bands.
The dancers of Powerworx from Chantilly will perform at 1:10 p.m., and the Fairfax Choral Society's Youth Choir will sing at 1:30 p.m. Next will come the power and precision of the Hallelujah Tae Kwon Do Demonstration Team at 1:50 p.m.
Then at 2:15 p.m., Korean Senior Center members will play tunes on their harmonicas, followed by Cub Run's Dance Team at 2:40 p.m. Displaying another form of martial arts, the Northern Virginia Wushu Academy entertains at 3:30 p.m. And at 4 p.m., the Harmony Road Players will perform instrumental selections. The day's final acts haven't yet been announced, but check www.CentrevilleDay.org or Centreville Day's Facebook page.
Pet Parade, Blessing
"For the second year in a row, Centreville Day will go to the dogs — and the cats, birds, snakes, lizards, rabbits and mice," said Repetti. "The Centreville-Chantilly Rotary Club is sponsoring a fabulous and friendly Pet Pageant for pets of all kinds."
The pageant is set for 3 p.m. at the stage. There's no registration fee, but a registration form is available at the Centreville Day website. Families are welcome to bring more than one pet, and prizes will be awarded in categories such as Most Unusual Pet and Most Creative Costume. Prizes are donated by local pet stores and veterinarians. For more information, contact Cammy Gawlak at cgawlak@verizon.net.
The Rev. Carol Hancock will be blessing a variety of pets throughout the day at the Saint John's tent on the lawn of the historic church. Hot coffee will be available and the church and grounds will be open for tours. Discover the door in the ceiling or explore the old cemetery.
History
Just down the street from St. John's is the Spindle Sears House. Purchased in 1933 from a Sears catalog and shipped here by train, this tiny house will be open for tours led by Ellanor C. Lawrence Park historian Allison Hartley.
Besides the guided tours of Mount Gilead, cookies and tea will be offered on the home's porch by the Irongate bakers in period garb. Mount Gilead is also one of the stops for the county Park Authority's History Train, driven from the Sully Historic Site by Matt McNeal.
Repetti advises visitors to get off the train at the Braddock Road stop and "stroll down the hill to explore the Old Stone Church — the Church of the Ascension — where you can tour the historic church and meet living-history performer Dean Howarth. Dean will amaze and delight you with curiosities and demonstrations drawn from 18th-century science."
Also there will be more baked goods, plus a ploughman's lunch for sale. And the nearby Havener House and Stuart-Mosby Museum will be open for tours, too. The Stuart-Mosby Civil War Cavalry Museum on Braddock Road features items related to the lives of cavalrymen Gen. JEB Stuart and Col. John Mosby.
General information
Centreville Day is organized by and benefits the Friends of Historic Centreville, a nonprofit organization that puts on Centreville Day in partnership with the Park Authority to encourage residents to discover the Centreville's rich history. For more information, follow "Mrs. Spindle" at www.CentrevilleDay.org.