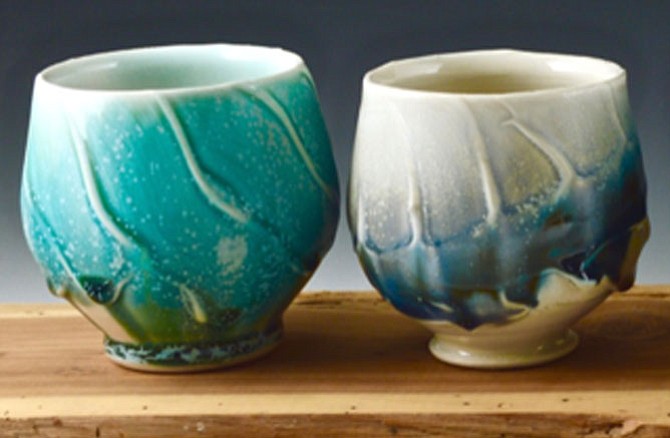 Downtown Herndon businesses open their doors to the public for the 6th Annual Arts Crawl, Wednesday, Oct. 12, 5:30 - 8 p.m. The Arts Crawl is one of many free activities scheduled during Herndon Arts Week.
At the Sept. 27 Herndon Town Council Public Session, Councilmember Sheila Olem read the Proclamation by the Town of Herndon recognizing Oct. 10-6, 2016 as Herndon Arts Week in the Town of Herndon.

According to the Proclamation, Herndon Arts Week was started as an initiative by the Council for the Arts of Herndon, now known as Arts Herndon, to promote the many wonderful arts organizations and businesses in the town.
Olem said that the Mayor and the Town Council, "Recognize this important week in our community and commend and support Arts Herndon - the town's official arts agency - along with ArtSpace Herndon, Classical Ballet Theatre, Folk Club of Reston/Herndon, and the Herndon Fortnightly Library for their roles in organizing and hosting Herndon Arts Week."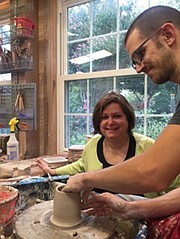 Evan Hoffman, Executive Director of Next Stop Theatre, Michael O'Reilly, Board President Arts Herndon and Signe Freidrich, Executive Director Arts Herndon thanked the Mayor and members of the Town Council for their commitment to the arts in Herndon and for recognizing Arts Week. "We look forward to continuing our partnership with the town," O'Reilly said. "Working together we'll do great things."
"What a pleasure it is," Freidrich said, "to be working in a town that supports the arts as an integral part of our culture. It is so important".
Freidrich added: "Wednesday of Arts Week is probably going to be the best Arts Crawl we've ever had. There are far more venues than normal. We'll be doing an event at the Green Lizard. We'll be doing something at Copan, which is a first for us, and we will have bi-lingual artists at Copan, so that we are reaching out into the community trying to make sure that businesses and the artists get promotions."
In a later interview, Freidrich talked at length about the Arts Crawl. "Admission to the event is free and it is open to the public. We've added demonstrations by teachers from
HERNDON'S OWN Rhythm Street Dance Center and Fred Astaire Dance Studio. A long time nonprofit community partner of ours, The Folk Club of Reston/Herndon, has committed to provide a bit of background music, and a local studio, The Music Loft, is preparing to teach ukulele classes at one of the arts crawl venues."
"Oh, and you don't have to bring a ukulele", Freidrich said. "Laura Readyoff, owner of Music Loft, will provide ukuleles for everyone to use."
Jason Dimambro is Community Outreach Manager for Arts Herndon. He added: "We wanted to expand and include multiple art mediums in the crawl this year, go beyond works in painting and photography. So we sought out local artisans-makers and creators of pottery, fiber arts, mosaics and woodturning to join our Arts Herndon family. They will offer their works for sale to the public, along with the photographers and painters, during the Arts Crawl."
Crawlers are encouraged, Freidrich said, to go from business to business, chat with the artists, enjoy and purchase art if desired. "All proceeds from the sale of art go to the artists," she said.
Dimambro said the Arts Crawl is located within a 1-block area of the downtown district. He added: "One reason we planned for the Arts Crawl to have such a small footprint is to foster inclusiveness. We want to provide an opportunity for people who have limited access to the arts to participate and make it easier for those who are mobility challenged, such as some of our senior citizens or those who might use public transportation, to attend the crawl and experience the arts."
"Arts Herndon's restaurant and business partners are the best," Freidrich added. "They are offering not only space to our artists but complimentary hors d'oeuvres to the first 200 crawl participants."
Noting that the theme for this year's art crawl is Shining Lights on the Arts in Herndon, Freidrich said, LED lit balloons are being placed outside each of participating businesses - Jimmy's Old Town Tavern, Copan Restaurant, O'Sullivan's Irish Pub, The Breeze Restaurant & Sports Bar, Ice House Café, Green Lizard Cycling and Town Hall. LED lanterns will shine on the sidewalk paths between venues, guiding crawlers to their next stop.
"We want passerbys to know something very special is going on Wednesday evening, Oct. 12," Freidrich said. "We want to draw people into the downtown to see what's happening; promote the arts and businesses. It is only with the support of our local businesses, artists, artisans, demonstrators, volunteers, contributors and grantors that this special evening, Shining Lights on the Arts in Herndon, can happen."
Nicholas Black, Arts Herndon Director of Music, is anticipating his first Arts Crawl. "I look forward to meeting everyone during the Arts Crawl", he said. "They bring such a rich culture to our town. Without our artists, Herndon would just be another small town. But because we have the ability to secure this wonderful talent, it brings a sense of togetherness, to our community."

"It's all about a good time out for all," Freidrich added. "And an appreciation and support of the arts."
TO LEARN MORE about the Art Crawl and Herndon Arts Week Calendar of Events or to find out how you can contribute your time or money to support the many efforts of Arts Herndon, a nonprofit 501 (c)(3) organization, please visit www.artsherndon.org."