When E. Hunt Burke walks the streets of Old Town, he commands attention sporting the same iconic mustache that was the trademark of his father, the late Taylor Burke Jr. As chairman and CEO of Burke and Herbert Bank, Burke has spent his career in the family business and on Oct. 19 will again follow in his father's footsteps when he is honored as the Alexandria Chamber of Commerce Business Leader of the Year.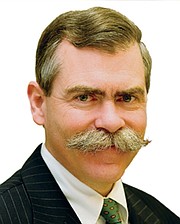 "I'm honored to be selected for such a distinguished award, particularly given that my father was the first recipient in 1994," said Burke upon learning of his selection. "As a life-long Alexandrian, I am committed to the vibrancy of our city and its future. Alexandria is fortunate to have a rich business community and many accomplished business leaders. I am humbled to be counted among them."
Burke is a member of the fifth generation of his family to operate Virginia's oldest bank, which was first established in 1852. He has worked at the bank in a variety of roles since the age of 13, when he had his first unofficial job examining checks, getting lunches and, sometimes, running the switchboard. He worked as a teller starting at age 16 and entered the bank's management training program after completing college.
A graduate of Episcopal High School, Burke received his B.A. from George Mason University while working full-time at the bank. He graduated with honors from the Graduate School of Bank Management at the University of Virginia.
Burke is active in several community organizations including Inova Alexandria Hospital Foundation Board and The Campagna Center. His past service has included director on the board for Five Guys Burgers & Fries, Elder Crafters of Alexandria, the Alexandria Chapter of the American Red Cross, Alexandria Business Cares Foundation, Friends of Carlyle House and Alexandria Neighborhood Kids at Risk.
"The Alexandria Chamber is deeply proud to honor Mr. Burke and have him join an exceptional list of business leaders as a recipient of our Business Leader of the Year Award," said Chamber President and CEO Joseph Haggerty in a statement announcing the award. "We appreciate his dedication of time and resources given back to the community that have been proven immeasurable. His considerable contributions make him a superb candidate for this year's award."
The chamber's annual Business Awards Reception will be held Oct. 19 at the George Washington Masonic National Memorial beginning at 6 p.m. The event will also honor businesses in the following categories: Large Business, Medium Business, Small Business, Rising Star Business, Association/Nonprofit and overall Business of the Year.
For tickets or more information, visit www.alexchamber.com.