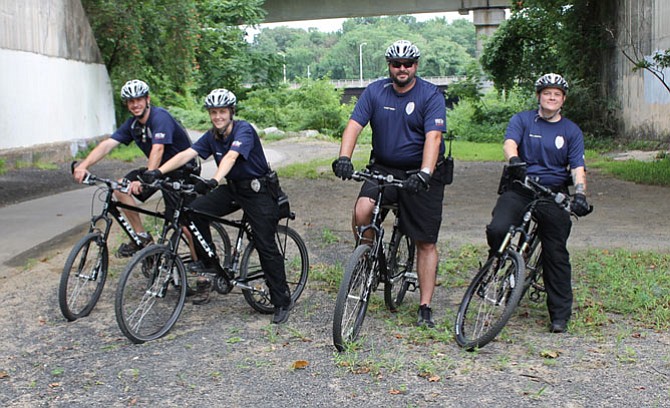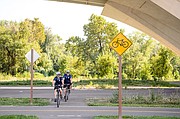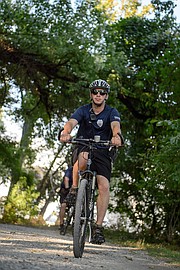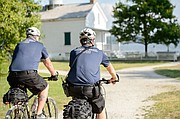 That bicyclist riding in front of you on the bike trail in Alexandria might be an Animal Services Officer on duty.
The Animal Welfare League of Alexandria's Animal Services unit is leaving its vans behind whenever possible in an effort to get off the beaten path — and closer to where the animals are. In what is believed to be the first program of its kind in the country, the uniformed officers are boarding bikes provided by the Alexandria Police Department to roam the city's parks and trails to get to know the animals and citizens.
"I just biked up Holmes Run Trail and saw a lot of dogs off leash," said Animal Services Officer Ken Howes. "I stopped the owners and reminded them that city code prohibits letting dogs off leash on bike trails, for the safety of both dogs and people."
Citizens seem surprised to meet an Animal Services Officer on a bike trail, said Animal Services Chief Brian Rees, who created the program. "With 18 dog parks in the city's 16 square miles, bike patrols are an important avenue for increasing our contact with both animals and citizens," said Rees. "It's also a way to reduce our carbon footprint."
Rees believes that an important part of an Animal Services Officer's role is talking with citizens to provide education and hear directly about their concerns. By getting out of their vehicles, officers can provide this one-on-one service more effectively, he says. Besides parks, Rees plans to send officers on bikes to patrol the waterfront and other areas where people come in contact with wildlife, such as raccoons.
Officer Carl Wortham of the Alexandria Police Department coordinated the effort to supply the four bikes to AWLA. They are super-sturdy Trek mountain bikes, with superior brakes and beefier suspension rims, he said. Wortham also provided training to the Animal Services Officers on such necessary skills as emergency braking, mounting, dismounting and clearing of obstacles like downed trees. "I'm a big bike advocate, so I do whatever I can to promote the city's use of bicycles," Wortham said.
Rees, a former police officer, feels the same way about bicycles. Patrolling in the city's vans will continue, but he plans to supplement that with bike patrolling year round, weather permitting. He hopes the program will be adopted nationwide. "Bikes are perfect for so many parts of the country because officers can get on to boardwalks and into alleys to find the best ways to help animals in need."
The Animal Welfare League of Alexandria, celebrating its 70th anniversary, is an independent, local, 501(c)(3) non-profit organization. The AWLA is committed to ending animal homelessness, promoting animal welfare, and serving as an educational resource for the City of Alexandria community. More information is at AlexandriaAnimals.org.