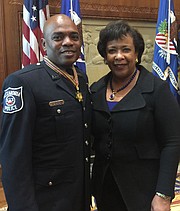 "It's a team effort ... I'm the face of the dollar, but people don't see the 99 cents behind me."
— Police Officer Bennie Evans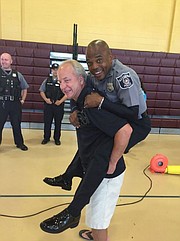 Alexandria Police Officer Bennie Evans was one of 12 police officers from across the country to receive the Attorney General's Award for Distinguished Services in Community Policing. Evans, a regular at any event where the community interacts with the city or police, was noted for his voluntary participation in police and local non-profit projects and for his successful de-escalation of numerous calls about violence and attempted suicide.
"These inspiring men and women have been nominated for these awards by their colleagues and their communities," said Attorney General Loretta Lynch in a press release. "Each of them embodies the very best of their profession. They understand that their role is not just to enforce the law, but to secure justice. They recognize that the badge they wear represents a sacred trust, one that they strive to fulfill each and every day. And they view the citizens they serve not as adversaries or potential opponents, but as partners, allies and neighbors. Everything that they do, whether it is an effort as large as running a youth outreach program, or a gesture as small as learning a neighbor's name, makes a real difference in their communities and we are here to share our admiration and our gratitude."
Evans has been a patrol officer for the Alexandria Police Department for 20 years, but says his 15-year-old son's suicide three years ago pushed him further into community policing. Evans said he found out that his son had been giving away his socks and shoes to homeless people, and that when he worked at Ben and Jerry's he would go out onto the street and serve them ice cream.
"Once we lost him, we amplified that," said Evans.
Evans credits much of his work to his team of officers who support him at events and on the street.
"It's a team effort," said Evans. "A lot of what we do, we do with a group of guys. I'm the face of the dollar, but people don't see the 99 cents behind me."
The work Evans and the other officers do go beyond traditional police work. These officers are engaged do outreach programs for Alexandria's homeless. They give out backpacks, schools supplies, coats and socks for school children. Evans said he works closely with City Councilman Willie Bailey and Michael Johnson from Alexandria's Department of Parks and Recreation to help plan giveaways.
"It was surprising," said Evans. "I wasn't expecting this. We don't do it for the awards. It was really an award for the group of guys I work with … It meant a lot. It showed that there's someone out there looking at what we're doing. It's another good point for our police department."
"We are so proud of Officer Evans and congratulate him on a job well done." said Shahram Fard, deputy chief of the Patrol Operations Bureau. "He exemplifies and models the type of community policing that is unique to the Alexandria Police Department and sets us apart as a leader in community engagement and building trust with those who we serve."