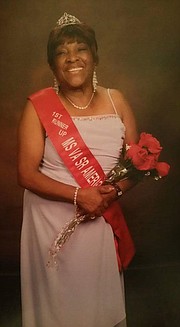 Betty Ann Crews Graves, 78, of the Mount Vernon/Gum Springs area placed First Runner Up in the Ms. Senior Virginia America Pageant on July 14 in Falls Church.
She also was voted Miss Congeniality by the other seven contestants.
If for any reason that the current Queen, Rebecca Nunn of Kilmarnock, Va. cannot serve, Graves will represent Virginia for the year of 2016.
Graves was also recognized for her community service, and the most ads in the pageant's souvenir book, as well as selling the most tickets and raffles for the pageant.
Her talent for the pageant was reciting a poem by her favorite poet, Maya Angelou, "Phenomenal Woman." Graves won the talent competition in the pageant in 2005, when she recited another poem by Angelou, "Still I Rise."
Graves is a retired Fairfax County Public School special education teacher. She is the mother of three: Debra, George and Michael. She has eight grandchildren and two great grandchildren. She is also a cancer survivor of 13 years.
Graves represented the seniors at The Gum Springs Community Center.
Her other interests are reading, bowling, and traveling. Graves recently spent two weeks touring South Africa from Johannesburg to Cape Town.