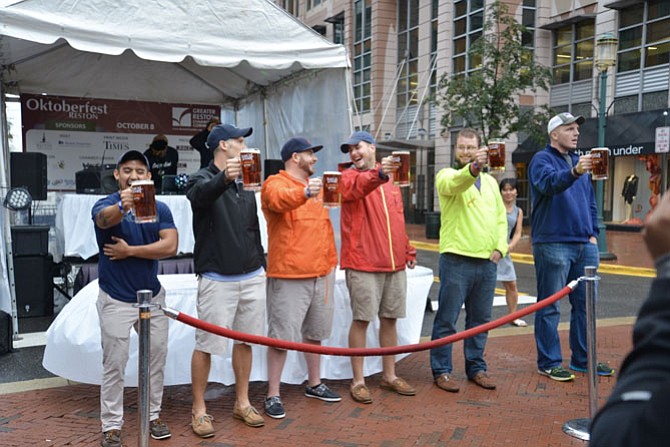 See more Oktoberfest photos on Facebook.
Not to be deterred by the weather, a steady flow of revellers matched the steady drizzle that couldn't put a damper on Oktoberfest Reston 2016 on Saturday, Oct. 8.
Produced by the Greater Reston Chamber of Commerce, the event offered plenty of food, fun and entertainment to reward those who ignored the somewhat soggy conditions.
Beneath the covered pavilion in Reston Town Center, festival goers sat at beer-garden style tables with their ales, brews, and tasty treats while enjoying traditional German music from the Low 'n' Brows German Band and the colourfully dressed and well-choreographed Alpine Dancers. Scattered throughout the crowd were attendees who donned their lederhosen and dirndls to really get into the spirit. Quite a few hit the dance floor to show off their polka moves.
The streets of Town Center were closed off to traffic so that pedestrians could happily wander among the food, beverage and product vendors – and down on Library St. they could compete in a "Hold that Beer Stein" competition to the less-traditional tunes being spun by DJ Edward Daniels.
The beer and pretzels may have been put away by Sunday morning, but the fun kicked off again quite early with the Pumpkin 5k Run, sponsored by Crunch Fitness, with almost 200 runners taking to the course at 8:15. It was a sight to behold, as numerous costumed athletes wound their way through the Reston streets alongside the more traditionally garbed runners.
When the last of the 5K'ers had crossed the finish line, it was time for the younger participants to warm up for the Pumpkin Dash that saw a cluster of miniature super heroes, clowns, zombies, one cow and even a min-dinosaur prepare to race from the Bow Tie movie theatre to the fountain plaza.
Rain or shine, looks like a "Gute" Time was had by all.