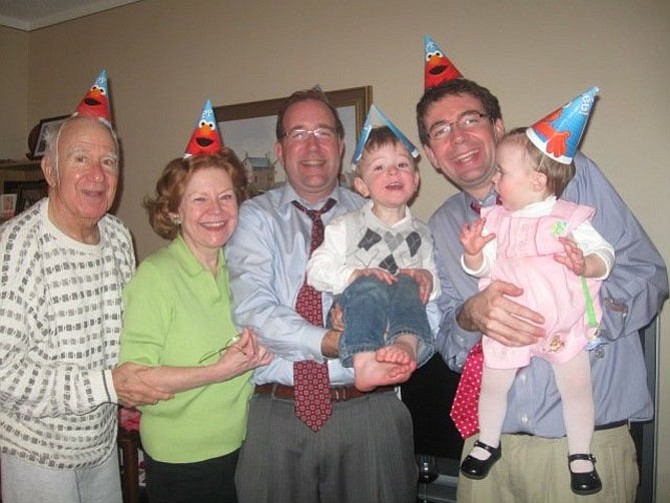 Since 1846, the Fannon name has been virtually synonymous with Alexandria and no one was prouder of that than Frank Fannon III.
"I could have been born in any city in any country but was lucky enough to be born in Alexandria," Fannon would say often to his family and friends.
The otherwise humble man was fiercely proud of his Alexandria heritage. He was born at the corner of Duke and Washington streets and grew up behind the George Washington Masonic Memorial, where he would play and often times find Civil War relics. On Oct. 13, the fourth-generation Alexandrian died at the Sunrise of Alexandria care facility, less than a mile from where he was born. He was 82 years old.
"Dad had this amazing pride in the city of Alexandria," said Fannon's youngest son Ryan. "He loved Alexandria and was very proud of our family history here."
That history includes the family's coal and lumber business, founded in 1885 by Fannon's grandfather, Thomas J. Fannon, who also served as a vice mayor of Alexandria. T.J. Fannon and Sons remains the third oldest family-owned business in the state of Virginia and is currently operated by Fannon's nephews.
Born Francis Harper Fannon III on March 13, 1934, Fannon's namesake was businessman Frank Harper, who lent T.J. Fannon $500 in 1885 to begin his business at the corner of Duke and Henry streets.
Fannon attended St. Mary's grade school in Old Town and was a 1952 graduate of St. John's College High School in Washington D.C. He was a High School All-American football player and played collegiately at the University of Virginia where he graduated in 1957.
He spent the majority of his early career in the life insurance industry and started his own insurance and financial planning firm in 1980. He retired in 1993 and promptly embarked on a 40-day, cross country road trip with his two sons in his mother's 1979 Cadillac.
"Dad really loved to travel," said former City Councilman Frank Fannon IV. "That trip was the trip of a lifetime for us. We played a lot of golf, ate a lot of good meals and visited small towns all across the country. Dad loved to talk to people — he never met a stranger and was always happy and positive."
Fannon traveled extensively throughout the U.S. and became a guest lecturer on the Lewis and Clark expedition. Other interests included running, golfing, charitable endeavors and worldwide travel with his wife Kathy.
"Dad always said 'Ryan, I've had a great life — I've had a blessed life and when you are fortunate like that you have to make sure you give back,'" Ryan Fannon said.
Fannon was a longtime member of many local organizations: Alexandria Kiwanis Club, Old Dominion Boat Club, Alexandria Sportsman's Club, Belle Haven Country Club and The Ancient Order of Hibernians, which celebrated his Irish Heritage.
Fannon is survived by his wife of 49 years, Kathy R. Fannon, sons Frank Fannon IV, and Ryan P. Fannon Sr. and his wife Laura, and four grandchildren: Ryan Jr., Maggie, Grace and T. Jackson Fannon. He was preceded in death by his parents, Francis H. Fannon and Dorothy Knight Fannon, brother T.J. Fannon and a sister Mary Ellen Feeney. Other survivors include a sister, Dorothy Markham, and numerous cousins, nieces, nephews and other extended family members.
The family will receive visitors Oct. 20 at Everly-Wheatley Funeral Home, 1500 W. Braddock Road, from 2-4 p.m. and 6-8 p.m. A Mass of Christian Burial will be held Oct. 21 at Saint Mary's Catholic Church, 310 S. Royal St., at 10 am., at the same altar where Fannon was baptized in 1934. Burial will be private.
In lieu of flowers, donations may be made to Catholic Charities, PO Box 1219, Alexandria, Va. 22313.
"Dad was very committed to his faith and to his family," Frank Fannon IV said. "To Ryan and me, our father was our best friend and the greatest gift he gave us was his love and his time. We couldn't have had a better father."