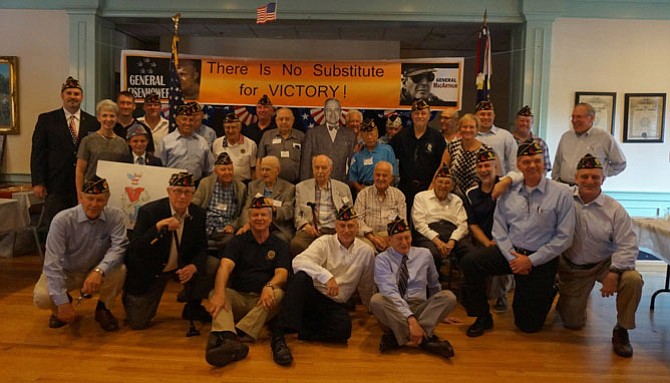 Former Mayor Kerry Donley will be among those honored for their service to the community at the 22nd annual Volunteers are the Heart of Alexandria awards ceremony Oct. 26 at the U.S. Patent and Trademark Office.
Sponsored by Volunteer Alexandria in partnership with the Alexandria Citizens Corps Council, the event recognizes exemplary dedication and service through volunteerism.
"Alexandria is fortunate to have so many who care so much," said Volunteer Alexandria board president David Chamowitz in announcing the awards. "These awards highlight just a few of those important people."
Others being honored for their service to the community include Maria Cabrera, Ray Gingrich, Day 'Quon Henderson, Michael "Marco" Johnson and the American Legion Post 24 in Alexandria.
"Kerry, Maria, Ray, Day'Quon, Marco and the American Legion are being recognized by our nonprofit partners and the community for their outstanding volunteer service and leadership within the Alexandria community," said Volunteer Alexandria Executive Director Marion Brunken. "They have gone above and beyond the call of duty. These awards are being given in appreciation of their hard work and dedication to organizations within Alexandria."
Donley will receive the Marian Van Landingham Lifetime Achievement Award for service to Alexandria that spans more than 20 years. He has volunteered for roles promoting transportation, the arts and providing leadership and talent to a half dozen nonprofit activities and boards. He is a strong advocate for the arts and since its inception in 1994 has been one of the leaders behind the New Year' Eve celebration First Night Alexandria.
Cabrera is a recipient of the 2016 Grassroots Volunteer Service Award. She volunteers in all aspects of the work of Casa Chirilagua and organizes events, helps prepare food and reaches out to the community to provide information and to create a welcoming atmosphere at the organization. As the vice president of the Casa's Kids' Club, Cabrera pulls together events to raise funds for the Casa's work with community children.
A second Grassroots Volunteer Service Award will be presented to Ray Gingrich, a longtime volunteer in the endoscopy department at Inova Alexandria Hospital. His service as a health care volunteer spans more than 10 years. Gingrich welcomes and trains new volunteers in customer service, clinical support duties and patient safety.
The 2016 Youth Volunteer Service Award will be given to Day 'Quon Henderson. Henderson created an app to support students in Alexandria City Public Schools with learning disabilities. This app is now available on the Google Play Store. Henderson's own experiences due to a learning disability were the catalyst for his desire to help all children facing the same challenges.
Citizen Corps Council will present its organizational meritorious award to the Alexandria American Legion Post 24 Homeland Security Support Program Team for playing a pivotal role in emergency preparedness and whose military veterans served over 400 volunteer hours in the past 18 months.
The individual Emergency Preparedness meritorious award will be presented to Johnson for his role in over 31 community health outreach activities as a member of the Alexandria Medical Reserve Corps since 2008.
For tickets or more information, visit www.VolunteerAlexandria.org.