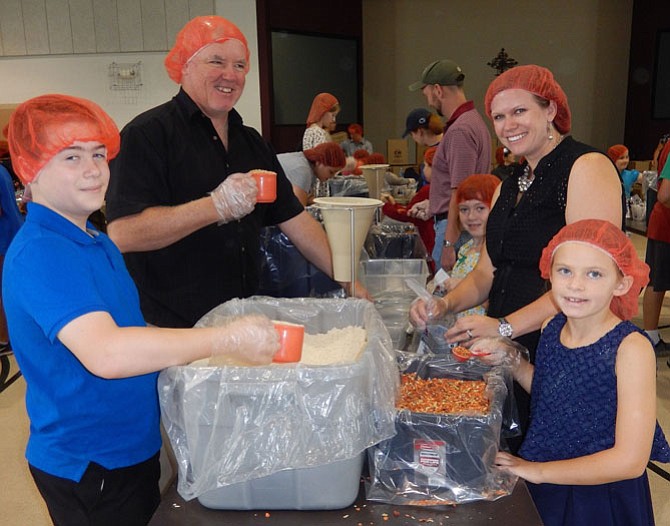 Besides feeding the soul, churches can also feed the body — literally. And on Sunday, Sept. 25, members of Centreville United Methodist Church (CUMC) did just that.
Partnering with Stop Hunger Now, they took turns during their two Sunday services to package 30,000 meals in the church's recreation and outreach center. They also assembled 50 water filters for the organization, Wine to Water, which provides clean water to people in need.
Similarly, Stop Hunger Now gets food and life-saving aid to the world's most vulnerable people. Established in 1998, it's already provided more than 225 million meals in 74 countries. And the CUMC members were happy to lend a hand.
It's fun for our whole family to do," said Johannah Evans. "We've very blessed and fortunate, so we want to help others who aren't and share the love of God wherever we can."
Each meal contained rice, soy protein, dehydrated vegetables — tomato, onion, bell pepper and celery — plus a vitamin sachet with 21 different vitamins and minerals geared specifically for malnourished children. The volunteers measured and weighed each packet of food, then sealed them and packed them into boxes for shipping.
Pouring a cup of rice into a funnel leading to a plastic bag was Stone Middle School eighth-grader Christopher Thoennes. "I'm doing it for service hours for Civics and because it helps people who are in need," he said.
And, added Joe Estabrooks, "It's nice to see how quickly so much can get done when people are working together."
Meanwhile, at another table nearby, Lois Park and Eunsouk Paik measured the ingredients going into each bag before Danny Chung sealed them. "I've done this before at a previous church," said Chung, associate pastor of the Korean United Methodist Church of Koinonia that meets at CUMC. He's also in charge of his congregation's English ministry.
"This is my fourth or fifth time doing this," he said. "It's always good to have a global perspective and be mindful of undernourished people around the world. And, honestly, it's fun for the families participating."
"I'm enjoying it," said Paik. "I'm so happy to be here, especially with the kids. And it's good training, as God's children, to help people share many things, especially food. It's also a good opportunity for kids to see how we can help people, so we need this. Sometimes, we don't know how to do it, but this is one way."
Lois, a sixth-grader at Willow Springs Elementary, said, "It's good knowing that we're helping other people. It's a long process, but it's kind of fun."
Packing the meals into boxes, Kevin Kim agreed, saying, "We're helping out poor people." Nearby, David Yang, with the Korean church, worked with his son Michael, a junior at Centreville High.
"I'm doing quality control for each meal package to make sure nothing's leaking and that each box contains 36 packages," said David Yang. "We're here with our whole family, including my wife Su and younger son Nicholas, 11, a sixth-grader at Colin Powell Elementary. We're doing just a small part. But we want to be involved in the church community and contribute in whatever way we can."
"I enjoy helping out," added his son. "And it felt good doing it, knowing that we're helping others in need. And by us packing these meals, we're helping them get food."
This was CUMC's eighth year of participation in this event, and lead volunteer Bill Wright said things "went really well. Every year we find a few, more details to make this run smoother."
Besides church members, he said, "We also had Boy and Girl Scout troops that took part, plus a group that helped set up the various, packaging stations and offload the Stop Hunger Now truck that arrived at 7 a.m. with the materials, such as the scales and wires for the sealing stations. Our custodial staff set up all the tables [in advance], and volunteers helped take it all down and clean up so the Korean church could meet here in this space, an hour after we were done."
"I think it's wonderful that, on a Sunday morning, we can gather for worship and work," said the Rev. Will Montgomery, CUMC's lead pastor. "Besides putting the meals together, it was a great opportunity for CUMC and the Korean church to join to meet a common need. We had more than 250 people combined."