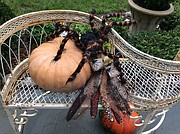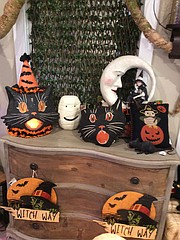 Grown up Halloween preparations aren't just about ghosts and smoke machines anymore. They include home décor with a twist, perhaps glittered or velvet pumpkins, or spooky fine china.
In fact, Halloween sales are expected to reach $8.4 billion this season, an all-time high as Americans dole out dollars this spooky season, according to an annual survey by the National Retail Federation. More than half of those surveyed had plans to decorate their homes this season.
Halloween may be less than two weeks away, but that doesn't mean it's too late to transform a home into a haunted house. For those who want to unleash ghoulish creativity, local retailers are still stocked with frightful décor from animated outdoor figures to heirloom-quality interior options like dinnerware, stemware, placemats and napkins.
Even the smallest embellishments can add a touch of terror with minimal effort. "Add spiders on a mirror or a table in your entryway," said Faye Johnson, interior designer, JT Interiors at Potomac House. Try "tiny spiders and votive candles as place card holders on table."
Also look for throw pillows, garlands and even Halloween trees complete with spine-chilling ghost or skull ornaments to place on side or foyer tables. "If you're planning to entertain for Halloween, there are napkins, placemats and table runners," said Linda Ridenour, visual merchandiser and designer, Potomac Petals and Plants. "We have banners, scary and fun stuff for the little kids and nostalgic accessories made of paper mache that appeal to the baby boomer crowd."
There's no need to settle for plastic jack-o-lanterns and rubber spiders, either. "There are animated zombies, pirates and monsters on swings that you can hang from trees in your yard," said Andrea Barnes of American Plant in Bethesda.
While there may not be time to plan and execute an elaborate Halloween scheme like creating a graveyard in a front garden, tiny touches can have maximum effect. "Lighting is the cheapest and easiest way to make the biggest impact," said Ridenour. "Lights come in designs like skeleton heads or spooky ghosts. You can wrap them around columns on the outside of your home."
Ridenour also recommends Halloween wreathes that can be saved and reused year after year. "Halloween a tradition that should be built on," she said. "You get the most bang for your buck with lights and a few props and build from there over the years."
If time is scarce, life-sized props like mummies or aliens, particularly those that are animated, also add a big impact. "If you've just moved and can't find all your decorations or don't have time to scramble and do a lot, lighting along with two or three really interesting props with flashing eyes, for example, hanging from different levels, can have a great impact," said Ridenour. "Also try doormats that say 'boo' or a skull with eyes that light up and says something spooky when trick-or-treaters come to your door."